Hawick's Wilton Lodge Park upgrade priorities drawn up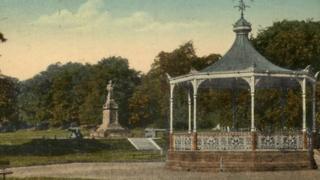 The results from public survey on plans to improve a historic park in the Scottish Borders have been revealed.
The regeneration project aims to help return Hawick's Wilton Lodge Park to its "former glory".
An improved cafe and toilet facilities emerged as the highest priority among members of the public.
They were also keen to see good quality signs and visitor information displayed about the park and its history dating back to the 19th century.
An information-gathering event was held in the town's Heritage Hub earlier this year when the plans went on display.
Now full details of the public response have been published online.
Philippa Gilhooly, project manager at Scottish Borders Council, said: "We were pleased with the turn-out at the exhibition.
"We are looking for volunteers who are interested in helping with the restoration of the park and who might have a couple of hours a week to help in a number of different ways."
An online questionnaire has been launched for people interested in helping to give some support to the project.