A75 upgrade calls raised in Scottish Parliament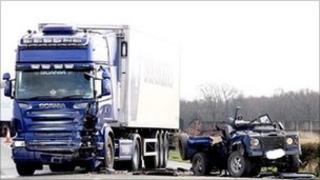 Calls for an upgrade on the A75 have been raised at Holyrood following a spate of crashes on the road.
Elaine Murray asked Infrastructure Secretary Alex Neil where the Hardgrove to Kinmount plans stood on his priority list.
He told the Dumfriesshire MSP that without UK government cuts, the project could have already been completed.
Two people have died on the route in recent weeks, while another man was left critically ill in hospital.
The Labour MSP said she was pleased Mr Neil was the relevant minister as he had supported a motion in 2000 for upgrades to the A75.
She said it was the last of a series of improvements - the rest of which had already taken place.
"Now that you are in a position to make this happen, how high up your list of priorities does the £10m project for Hardgrove to Kinmount actually sit?" she asked.
"Is it number one of those 36 you submitted to the UK government, or is it number 36?
"When will we see this being done?"
The SNP MSP disputed Ms Murray's price tag for the project.
"First of all, the capital cost is nearly £15m not £10m," he said.
"Secondly, had our capital budget not been slashed by a third by the previous Labour government and continued by the existing Tory-led coalition, this project would by now have been completed."