Dumfries and Galloway child exhumation policy reviewed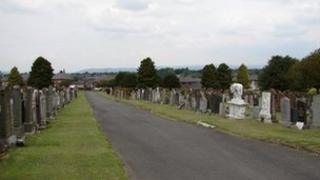 Dumfries and Galloway Council is reviewing its child exhumation policy after hearing claims remains have been moved unlawfully for years.
Grave diggers told BBC Scotland disinterments had been taking place without the necessary sheriff's licence.
One worker said remains were routinely removed without the proper paperwork.
The council is reviewing its policy but said it aimed to treat burial sites with dignity "at all times".
Historically baby or child coffins have been buried in shallow graves, which then have to be deepened to accommodate the burial of another family member.
That involved the exhumations of the child's remains - a process which should be carried out under licence from a Sheriff Court.
One worker, who did not want to be named, said that over the years, remains had been routinely removed without the legal paperwork.
"If you were digging and you came across a body - or parts of a body - you just lift them out of the way and put them into a black bag," he told the BBC.
"And once the funeral is over with we just, virtually, fling them back in the hole and cover them up and that's it.
"It's happening certainly in every cemetery we've worked in ... St Michael's, the High Cemetery, Calside, Dunscore."
His story has been seconded by a retired burial worker who also wished to remain anonymous.
He said some council officials knew what was going on.
"If there was a child buried, the child wouldn't go down full depth," he said.
"It was taken out of the grave and put on the side on the soil and then put back on top of the parents afterwards and that was standard practice.
"Technically you're exhuming another body without going through the procedures."
Legal advice
Dumfries and Galloway Council has now confirmed that it has found instances where the coffin or urn of a child has been buried at a shallower depth than expected.
It said that in those circumstances the coffin or urn may have been lowered to allow subsequent family interments.
The council has now sought legal advice and been told that they should not be disturbed.
In a statement to BBC Scotland the local authority said checks were carried out periodically by supervisory staff during grave preparation to ensure the site was treated with dignity at all times.
Dumfries and Galloway's policy and procedures are currently being reviewed with its legal service and in consultation with a sheriff.