Dumfries and Galloway police cuts 'closer to the bone'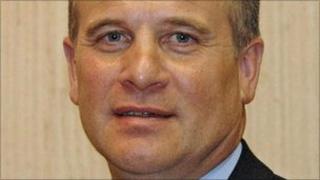 The chief constable of Scotland smallest force has warned that cuts in staff numbers are going "closer and closer to the bone".
Pat Shearer said there was a limit to how far Dumfries and Galloway Constabulary could go without adversely affecting police performance.
Some 29 civilian staff took voluntary redundancy or early retirement in its last round of spending cuts.
Up to 15 more could go under plans to save a further £750,000.
Mr Shearer said the reductions increased pressure on the staff who remained.
"Potentially there might be the opportunity for another number of people moving on through voluntary redundancy or retirement," he said.
"But you get closer and closer to the bone every time.
"We have got to really understand the impact that that will have on our performance and also the impact on others within the organisation.
"Are we pushing people too hard?"
He said the force was "continually assessing" whether or not that was the case.
"We have to pay due consideration to some of these extra pressures that are in there," he said.
"If we have potentially other people moving on from the organisation it will create pressures."