Dumfries and Galloway data leak inquiry finds failing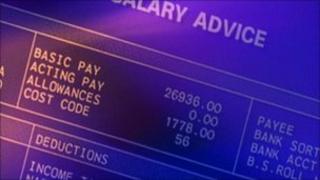 An inquiry has found "systematic failings" to blame for an error which saw the personal data of hundreds of council workers being published online.
The information was released by Dumfries and Galloway Council which has already made an unreserved apology.
The mistake saw names, dates of birth and salary details of nearly 900 employees put on the internet.
An inquiry has now highlighted procedural failings in the handling of Freedom of Information (FOI) requests.
The information was disclosed by the council in response to an FOI query and was subsequently put on a third-party website on 23 March.
The authority had it removed when it was told about the situation by Unison union officers on 1 June.
It then commissioned consultants Scott-Moncrieff to carry out a review of procedures.
The findings highlight "systematic failings" in how the council handles FOI requests.
These include an over-reliance on the local authority's one senior information officer, a lack of formal data protection training for staff, and the absence of a major incident plan to deal with any data breach.
The report lays out a series of recommendations, including the creation of a "centre of excellence" for the management of information across the council.
An action plan drawn up by the authority to tackle the failings identified is expected to be approved later this week.