Borders palliative care unit appeal gets under way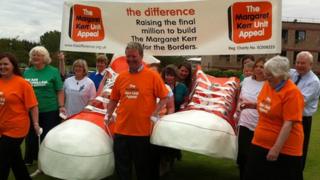 A public campaign has been launched to raise funds for a new unit to care for terminally ill patients in the Borders.
The £4.5m palliative care facility will be based at Borders General Hospital.
The unit will be named after Margaret Kerr, the West Linton nurse whose £500,000 legacy helped to kick-start the scheme.
Building work is set to start early next year and it is hoped the building will be ready to receive its first patients in early 2013.
The project is being taken forward by a partnership between NHS Borders and several charities and groups.
Earlier this year it received a £750,000 funding support package from Macmillan Cancer Support.
'Better service'
To date, nearly three quarters of the funds required have been secured in the form of firm pledges from "key stakeholders and partners".
Now the remaining sum, about £1m, needs to be raised by The Margaret Kerr Unit Appeal.
The funding drive was officially launched at the Borders General Hospital on Thursday.
At present, inpatient palliative care in the area is provided in a hospital ward not specifically designed for the purpose.
NHS Borders said the new facility could help it provide an "even better service" than is already offered to patients.