South of Scotland TV omission anger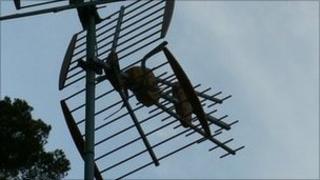 South of Scotland politicians have criticised UK government plans which omit Dumfries and Galloway and the Borders from local TV bids.
Nine areas in Scotland could be in line for their own television stations.
SNP MSP Christine Grahame has written to Culture Secretary Jeremy Hunt to raise her concerns for the Borders.
Tory counterpart Alex Fergusson said he did not see the proposals as a "fair outcome" for his constituents in Galloway and West Dumfries.
A total of 65 locations across Britain were announced as being in the running to launch local TV services.
The closest to Dumfries and Galloway and the Borders are in Carlisle and Ayrshire.
The government said the sites had been chosen because they had appropriate transmitter coverage.
The list will be whittled down to about 20 by the end of the year.
Midlothian South, Tweeddale and Lauderdale MSP Ms Grahame said her area currently received ITV Border broadcasts from Gateshead.
She said her constituents wanted television, particularly news, which would represent them and reflect their community.
"In the Borders there is no access to national Scottish news on commercial television or to Scottish sports programming," she said.
"In the recent election key programmes such as the election debates were relegated to late night slots disadvantaging the democratic process.
"This would never be accepted elsewhere and it is not acceptable here."
She has lodged a motion in the Scottish Parliament on the issue.
Mr Fergusson said that while he welcomed the scheme he said there were concerns some areas would be "left wanting by the proposal's current suggested implementation".
He said he and his south of Scotland colleagues would be contacting Mr Hunt to "make him aware of this imbalance" and asking for the area to be included in the "otherwise excellent proposals for regional television".
MSP for Ettrick, Roxburgh and Berwickshire John Lamont added: "There was strong support in the Borders for my campaign to keep our local TV services when ITV merged Border TV with Tyne Tees.
"Since then, there have continued to be concerns about the level of coverage which the Borders receives from the revised news service.
"The rolling out of this new scheme by the UK government is to be welcomed but I will be making it clear that the proposals should be modified to allow our region to benefit from a genuinely local TV service."
Dumfriesshire Labour MSP Elaine Murray said local people were increasingly concerned that TV services were "failing to meet their needs".
"People want to watch television that is relevant to them and discusses what's going on in our area with people from our own communities," she said.
"Dumfries and Galloway is the ideal place to run a local television service, because there is such an appetite already there.
"We live in such a large area and we deserve a local television service that reflects Dumfriesshire's own distinct identity and issues."