Border Reivers ride aids soldiers' charity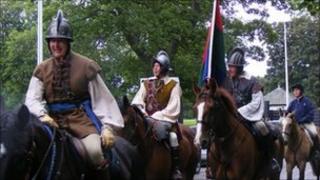 A charity horse-ride recreating the times of the Border Reivers has raised more than £90,000 for injured soldiers and their families.
The 130-mile procession through Northumberland, the Borders and East Lothian ends in Dunbar on Saturday.
The party has already exceeded its target of raising £60,000 for ABF, the Soldiers' Charity.
Maj Gen Arthur Denaro, one of the riders, said people had been "very generous" throughout the ride.
"The work of the Soldiers' Charity is much needed, especially since men and women have seen active service in areas like Iraq and Afghanistan in recent years," he said.
The route itself is considered to be a test of both rider and horse.
Rugged terrain in the Cheviots and other parts of the Borders are said to represent a particular challenge.
Anyone interested in tracking their progress can follow a blog by one of the participants.
Between the 13th and 17th Century the Border Reivers were gangs who roamed the lands between Scotland and England.
They survived by plundering livestock in the area and were celebrated for their courage and ruthlessness.