Borders red squirrel frontline visited by minister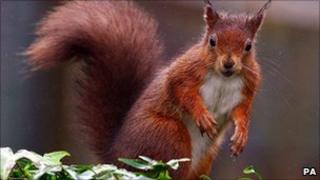 Environment Minister Stewart Stevenson has visited the Borders to see steps being taken to protect red squirrels.
The Red Squirrel South of Scotland project aims to stop the pox virus carried by grey squirrels spreading.
Scotland is one of the UK's last red squirrel strongholds, with the south of the country seen as being on the frontline of conservation efforts.
Mr Stevenson also inspected environmental work on the River Tweed and carbon-neutral efforts in Moffat.
He said the work being carried out in southern Scotland was an excellent example of public and private sectors working together in "pushing back grey squirrels".
"The red squirrel is at particular risk in the Borders from the squirrel pox virus carried by greys and it is important we keep this disease at bay," said Mr Stevenson.
"There are some very encouraging signs of progress being achieved by this project, which is part of a Scotland-wide strategic approach.
"I am confident that we can ensure many more generations to come will be able to enjoy the sight of red squirrels by preserving Scotland as one of the few habitats remaining in the UK for this species."
Carbon targets
He also saw the work being done by the Tweed Forum.
He said its efforts covering issues such as "pollution control, natural flood management and control of invasive non-native species" were "vital to the preservation of local biodiversity".
Later in the day the minister visited the Moffat Carbon Approaching Neutral (CAN) project in Dumfries and Galloway.
Mr Stevenson said: "The work of the 'Zero Heroes' in Moffat is proving invaluable in reducing carbon emissions through both its innovative food growing, waste and recycling projects and raising awareness and influencing behaviour of local people."