Whole Borders village votes for super-fast broadband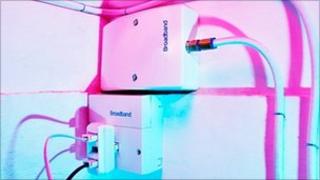 A Borders village has become the first place in Scotland where every resident has voted for super-fast broadband.
The whole 47-strong community of Abbey St Bathans has registered its interest in BT's Race To Infinity.
The scheme was launched last month to allow the public to vote for where it thinks the next stage of a £2.5bn broadband investment should take place.
A BT spokeswoman said it would now be investigating ways to improve the services in the Borders village.
Local MSP John Lamont recently highlighted his concerns about the service being provided to many areas across the region.
It followed one poll which showed Duns had the slowest broadband speed in Scotland.
"No community, regardless of size or population should have to suffer from low quality internet services - especially when it is such a vital tool for communication and for business," he said.
"There is a digital divide quickly opening up between rural areas like those in the Borders and the superior facilities available in more urban areas in the central belt.
"Nearby Whitsome also suffers from chronically slow internet speeds, along with Abbey St Bathans where some residents have no service at all."
Strong demand
A spokeswoman for BT said it had invested heavily to ensure 99% of Scottish premises had access to first generation broadband which was "one of the widest broadband footprints in the world".
She added that it had worked with the Scottish government for a number of years to improve speeds and capacity in rural areas.
However, she also urged other towns and villages to vote in the Race to Infinity in the same manner as Abbey St Bathans.
The five UK exchanges with the highest percentage of votes - subject to a minimum of 1,000 votes - will see their exchanges upgraded by early 2012 at the latest.
She added: "Every vote does count because whether communities win the race or not, each vote is an indication of demand for the next generation of broadband in Scotland."
The data collected in the poll will be used to help decide the future roll-out of such services.