Scottish independence: Homeless urged to register to vote in September's referendum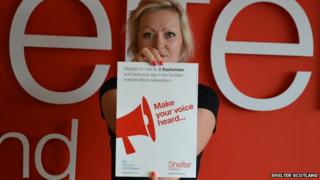 Homeless people in Scotland are being urged to register to vote ahead of September's independence referendum.
The campaign - launched by Shelter Scotland and the Electoral Commission - targets the homeless, as well as people living in rented or temporary accommodation.
Research shows these groups to be among the most under-represented on the voting register.
The deadline to register for the referendum is Tuesday 2 September.
Voters will go to the polls on 18 September where they will be asked the "yes/no" question: "Should Scotland be an independent country?"
Shelter Scotland's director Graeme Brown said: "Shelter Scotland wants to make sure that, whatever their circumstances, people have the chance to vote.
"We are sending leaflets, posters and forms to various organisations across Scotland - including housing associations, councils and homelessness service providers - to give people all the information they need to register."
Electoral Commission research shows only 71.7% of those living in rented accommodation were registered to vote in 2011, compared with 92% who own their home with a mortgage.
People renting from a private landlord were found to be the least likely to be on the electoral roll, with only 52.4% registered at their current address.
Anyone experiencing homelessness can register to vote by making a "declaration of local connection".
This is a statement to their local electoral office telling them where they spend most of their time.
'Never had a chance'
James Harris is currently homeless, and welcomed the help he has received in registering to vote for the first time.
Speaking at a Crisis class in Edinburgh, he said: "I've never really had a chance to vote before.
"In my last flats I had these electoral register things coming through. I was like "I don't know what to do with these things, no-one was telling me what to do"."
Alexander Lothian is also homeless, and another first-time voter.
He said: "I've watched a couple of these debates and they'll be asked a question and they'll answer a different question to what they've been asked.
"As I say, I'm in the dark, I don't know enough about it. We [his friends] never really have any debates on politics."
Crisis works with people who are single and homeless - normally living in temporary accommodation.
'Biggest decision'
Ann Landels, the director of the centre in Edinburgh, said: "Although it is possible to register to vote, even if you don't have a permanent home, a lot of people don't know that.
"And because we do education classes and work with people on one-to-one situations, obviously what we want to do is encourage them to engage in that democratic process because at the end of the day, if you don't vote, you don't have a voice.
"Giving people that voice often encourages them to think about how they might get involved in other ways.
"We've run sessions where MPs have come along and talked to groups about particular issues, and obviously the referendum being the biggest decision that Scotland's ever going to have to make, it's really important that people who want to have a say understand the process, and we offer them support."