Scottish independence: White Paper cost hits £1.25m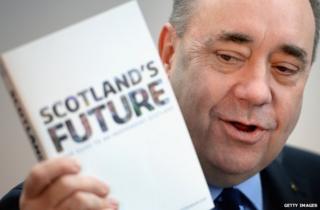 More than 100,000 copies of the White Paper on Scottish independence have been ordered by the public, the Scottish government has said.
About £1.25m has been spent by the Scottish government on production, delivery and advertising fees of its blueprint for an independent Scotland.
Deputy First Minister Nicola Sturgeon said the cost was justified to inform Scotland's voters.
Scottish Conservative MSP Jackson Carlaw said the cost was "ridiculous".
Scotland's Future: Your Guide to an Independent Scotland, published on 26 November, was described by the Scottish government as a "mission statement" for the future.
'Worth the cost'
Ms Sturgeon said: "I am delighted that Scotland's Future has met with such a huge level of demand, which is testament to the appetite for information that exists around the referendum debate.
"Since its launch in November the guide has been a 'bestseller' with over 100,000 copies ordered, and three additional reprints. A fourth reprint has now been ordered to keep pace with demand."
She added that the cost of the document was justified in order to make sure Scotland's voters could make an informed decision in the referendum on 18 September.
She said: "We want everyone to have the opportunity to read the White Paper and that is why it is free to order. It is well worth the cost of delivering it directly into the hands of the voters to ensure the choice they make on 18 September is an informed one."
'Utterly ridiculous'
However, deputy leader of the Scottish Conservatives, Jackson Carlaw, criticised the cost.
He said: "This would be a considerable spend for a work of fact, but this must be one of the biggest ever taxpayer-funded investments for a work of fiction.
"The public will feel extremely shortchanged over this, particularly given there's only one page on Scotland's economy.
"Alex Salmond himself admitted in the Scottish Parliament chamber that this is a document containing SNP propaganda, and it's utterly ridiculous that he should be sanctioning taxpayers' money for this."
A fourth reprint of an additional 10,000 copies of the document has been commissioned to satisfy public demand.