Electronic 'jail mail' system for Kilmarnock inmates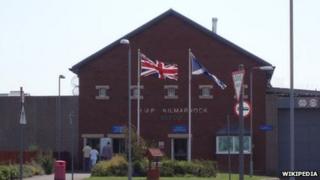 Prisoners at a Scottish jail have been given access to a secure email system for keeping in touch with their families.
Authorities said the "emailaprisoner" system at HMP Kilmarnock is the first of its kind in the UK.
All messages are monitored and the system allows prisoners to read and send direct messages via a dedicated kiosk.
Any messages must be paid for by the message sender.
Francis Toye, chief executive of Unlink, the firm who developed the system, said: "We are delighted that the establishment of our two-way emailaprisoner system has been such a huge success at HMP Kilmarnock.
"The system brings prisoner communication into the 21st Century, offering significant benefits to our prisons, individual prisoners and their families."
"Crucially, this system plays an important role in supporting the effective rehabilitation of prisoners by allowing them to develop their digital literacy and keeping them in touch with their friends, family and case workers."
Director of HMP Kilmarnock Sandy McEwan added: "The emailaprisoner system provides an easy and effective additional communications link between prisoners and their families, thus supporting one of the key influences in working to reduce re-offending."
HMP Kilmarnock is also the first prison in Scotland to operate an electronic secure payment system where payments can be securely paid into prisoners' bank accounts.