Scottish independence: Charities benefit from UK, says Alistair Darling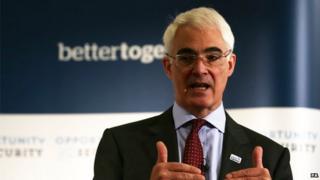 Scotland's National Lottery funding will "fundamentally change" if it votes to leave the UK, says Alistair Darling.
During a speech to voluntary groups, the leader of the Better Together campaign cited Lottery funding as an example of the UK's "social union".
He said Scotland's charity and voluntary sector had "the best of both worlds" within the UK.
The Scottish government said the Lottery would continue to operate in Scotland following a "Yes" vote.
In a speech to the Scottish Council for Voluntary Organisations at Glasgow's SECC, the former UK chancellor said the work of charities and voluntary groups showed that Scotland benefitted from being part of the UK.
He added: "The UK is more than an economic and political union. It is also a social union, enabling us to work together across the four nations of the UK for the benefit of all.
"As part of the UK we have more funds at our disposal to bring about the kind of change our communities need.
"Pooling and sharing our resources across the whole of the UK enables us to tackle this injustice and inequality far more than we ever could on our own."
Mr Darling said projects in Scotland received substantial Lottery funds as part of a "cross border relationship that works, but only because we are part of the UK".
He added: "Leaving the UK would fundamentally change that."
On 18 September, voters in Scotland will be asked the "Yes/No" question: "Should Scotland be an independent country?"
'Decaying union'
A spokesman for Finance Secretary John Swinney said Scotland would still receive Lottery funding following a "Yes" vote in the referendum.
He added: "The position on the Lottery was detailed in the White Paper, which Mr Darling still seems not to have read - the current licence to run it is in place to 2023, and the National Lottery will continue to operate in Scotland after independence.
"We will ensure that Scotland receives our fair share of funding from the National Lottery."
A spokesman for the pro-independence Yes Scotland campaign said social ties did not depend on a "decaying" political union.
He added: "Mr Darling knows perfectly well that the enduring social union that exists in these islands is not dependent upon the decaying Westminster political union.
"Indeed, several charities operate successfully throughout the UK and Ireland, such as the Salvation Army and the RNLI.
"After independence, we can look forward to the continuation of the remarkable contribution the third sector makes to Scottish society."