Minister Nicola Sturgeon in call over benefit aid cap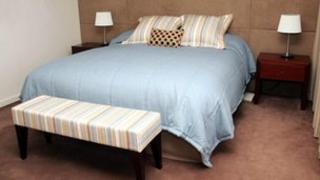 A further £15m has been found by the Scottish government to help those hit by the so-called "bedroom tax".
Deputy First Minister Nicola Sturgeon said she was "more than willing" to spend the cash topping up discretionary housing payments (DHP).
But the Scottish budget has already earmarked the maximum allowed under Department of Work and Pension rules.
The DWP said it had set aside additional funding but said only a third of Scottish councils had applied.
The department's discretionary payments are designed to help vulnerable claimants.
Ms Sturgeon is writing to the UK welfare minister, Lord Freud, asking him to lift the cap to allow the Scottish government to help more of those who are losing out.
An estimated 76,000 Scottish households are affected by what critics have dubbed the "bedroom tax".
It is not in fact a tax but cuts in housing benefit for tenants who are deemed to have one or more spare bedrooms.
The UK government says it is effectively ending a spare room subsidy as part of a wider package of welfare reforms designed to save money.
The Scottish government is against the measures and has promised to abolish it if there was a "Yes" vote in the independence referendum.
Labour has said it would scrap the "bedroom tax" if elected as the next UK government in 2015.
Meanwhile, there has been considerable debate in Scotland about how best to help those affected.
The UK government has allocated £15m to discretionary housing payments for 2014/15.
This fund is to be topped up with £20m from the Scottish government.
This is the maximum amount the Scottish government is allowed to contribute under UK government rules.
In her letter to Lord Freud, the deputy first minister argues that she is being "unfairly restricted" from spending a further £15m.
"In order to make this legally possible Westminster needs to lift the cap for Scotland and UK ministers should act now," she said.
Ms Sturgeon told BBC Radio's Good Morning Scotland programme: "We are trying to do the right thing here.
"I think it's absurd that we are having to try to jump through hoops trying to find money within a fixed budget to mitigate the impact of a policy that's opposed by a majority of Scottish Parliament, opposed by a majority of the Scottish people, being imposed on us by a government we didn't vote for."
She added: "It would make much more sense to have the powers of welfare in Scotland so that we don't have a bedroom tax in the first place. But we want to do the right thing."
The Labour Party has been pressing the Scottish government to find legal ways of spending more.
Rent write-off
Labour's finance spokesman Iain Gray highlighted a Renfrewshire Council scheme and an East Lothian Housing Association scheme in which additional rent due, because of the reforms is written off.
He has suggested that the Scottish government could set up a similar national scheme without falling foul of UK spending rules.
He said: "I'm not confident and that's why we've worked hard to develop an alternative so that helping families in Scotland doesn't depend on some kind of dispute between the Scottish government and the DWP.
"That's less important than getting the help to those households - 80% of those households include somebody with a disability.
"The most important thing is that we work together and find a way round the DWP if we have to."
A DWP spokesman: "The Scottish government's call for the current 150% cap on discretionary housing payment top-ups to be increased doesn't fit with our experience of how DHPs are currently working in Scotland.
"The UK government set aside £20m of additional DHP funding support which local authorities could apply for through a bidding scheme.
"After operating for four months the scheme closes today and so far only 11 [around a third] of Scottish authorities have made a bid for additional funding."
Discretionary payments
Grahame Smith, general secretary of the Scottish Trades Union Congress (STUC), said: "It is testament to the campaigning activities of a whole range of community organisations that we have achieved some respite for those affected by the tax.
"STUC also recognises that both the Scottish government and the Scottish Labour Party have consistently opposed the bedroom tax, even if they have hitherto not seen eye to eye on the tactics required to eliminate it."
At Holyrood question time last week, First Minister Alex Salmond confirmed that the government was in discussion with Labour about how to "mitigate" the reforms.
He indicated a preference for making discretionary housing payments short of Holyrood taking control of welfare policy.
On Friday, Holyrood's welfare reform committee called on the UK government to abolish the "bedroom tax" or to give the Scottish Parliament the power to do so.
The Scottish government's budget for 2014/15 is due to be passed at Holyrood on Wednesday 5 February.
The final debate on the budget can be viewed live, or on demand, at BBC Scotland's Democracy Live website.