Scottish independence: Referendum 'clarity' deadline missed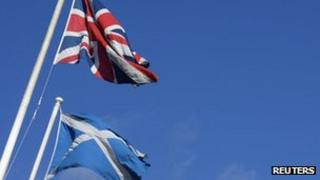 The Scottish and UK governments have missed a deadline for reaching a joint agreement on what will happen after the independence referendum.
The Electoral Commission had asked both administrations to reach a joint position on the processes for after the vote, whatever the outcome, by Friday.
The election watchdog said it now wanted that "clarity" to be provided "as soon as possible".
The vote takes place on 18 September, 2014.
Voters in Scotland will be asked the yes/no question: "Should Scotland be an independent country?"
Proposals put forward by the watchdog, which set the rules for the referendum, have been accepted by all sides.
One of the commission's recommendations was for both the Westminster and Holyrood governments to work together to clarify what will happen after the referendum, whether the vote is "Yes" or "No".
The work of the watchdog, which said there was a public desire for that kind of factual information, was last week reviewed by the Scottish Secretary Alastair Carmichael and Scottish Deputy First Minister Nicola Sturgeon.
They are expected to meet again in the New Year.
The Electoral Commissioner for Scotland, John McCormick, said his organisation asked for the joint agreement by 20 December, to coincide with the expectation that the Scottish government's Referendum Bill, setting out the terms of the vote, would become law when it gained Royal Assent.
He said: "Now that we have Royal Assent, we would like this clarity to be provided as soon as possible and we understand from both governments that progress is being made.
"In the interests of voters we would ask that every effort is made to reach agreement early in the New Year."
The UK government has said any agreement will not pre-negotiate the terms of independence.
However, First Minister Alex Salmond urged the UK government to enter into "technical" discussions about the aftermath of a "Yes" vote in the referendum.
Speaking on BBC Radio Scotland's Good Morning Scotland programme, he said: "The central difficulty here is quite simple.
"The only institution of state which is prepared to have technical discussions with the Scottish government in terms of proposals for a 'Yes' vote is the Bank of England.
"I hope they [the UK government] revise that opinion, because what the Electoral Commission was seeking - not in terms in pre-negotiations, but technical discussions - would be of great benefit in giving people some outline of the immediate implications of the negotiations that will follow a 'Yes' vote next year."
Mr Salmond also confirmed that he will meet Mark Carney, the governor of the Bank of England, for further discussions on the implications of independence, but said no date had been set.