Cowdenbeath by-election: Lib Dems select Jade Holden as candidate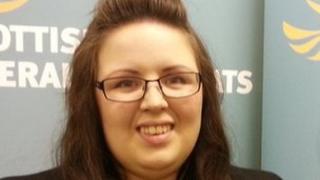 The Scottish Liberal Democrats have unveiled Jade Holden as their candidate in the Cowdenbeath by-election.
The by-election for the Scottish Parliament, which will be held on 23 January, is taking place due to the death of Labour MSP Helen Eadie.
Ms Holden currently works in information technology and is also a candidate for the European election.
She said she wanted to help party leader Willie Rennie "stick up" for west Fife.
Mr Rennie, who is an MSP for the Mid Scotland and Fife region, was formerly the MP for Dunfermline and West Fife.
Ms Holden said: "We want improved and expanded childcare, even more cuts to tax for those on low and middle incomes and a Scottish Parliament with more powers but part of the UK.
"Willie has a good reputation for action and service in west Fife and I want to join him in Holyrood so I can stick up for the area too.
"We don't need another nationalist in parliament to bang the drum for independence. The SNP have got the wrong priorities for Scotland. And Labour can't be trusted with the economy."
Mr Rennie said he believed Ms Holden would make an "excellent MSP".
He added: "She'll work hard, listen and get things sorted at a local and national level. We need improvements in the hospitals, more places at the college and action on failed opencast coal mines.
"Now that the economy is back on track, unemployment is falling and growth returning we need someone who will make the case for a stronger economy and a fairer society. Jade is that person."
The SNP has previously named Natalie McGarry as its candidate, while Labour have selected Fife Council leader Alex Rowley. Fife councillor Dave Dempsey will represent the Scottish Conservatives.