BBC Generation 2014: Rory Doherty's story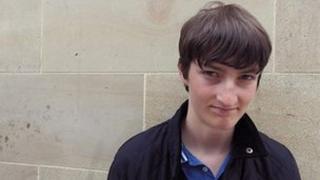 "Where will we be in 10 years? Or, where do we think we will be and where do we want to be. Two very different questions that have the possibility of having the same result.
"I'm not sure where Scotland will be in ten years, because so far what Scotland wants is much divided.
"What Scotland actually wants will depend on the overall outcome of the referendum; whether we will become independent or the parliament is granted more devolved powers is yet to be seen.
"Studies show that on the whole Scotland's population would not vote for independence, but still with at least a year until the referendum, a lot could change.
"With various campaigns still to be fully launched, Scotland could very likely be completely independent by 2023.
"If anything would have changed, at least the young people of Scotland would be more involved in politics.
"By extending the vote to young people of 16 and 17, it gives the opportunity to a lot more people to be engaged in the politics of Scotland at a time of real importance.
"If Scotland did become independent, it would be a great way of introducing young people to the political system which they'd undeniably be a large part of in the next ten years.
"As for me, I'd like to have finished a university degree, most likely one in film studies.
"Breaking into the film industry is far from easy though. Talented filmmakers or writers are definitely not rare so it's mainly about catching someone's attention, whether it's by getting a job serving coffees or writing whole scripts.
"I doubt that in 10 years I will be already directing feature films, but I want to at least be on the right track.
"To be a director and writer by the time I'm in 25, I just need to get involved as early as I can and do my best to get going.
"An independent Scotland could influence my chances; in order to establish home-grown filmmaking it's likely there will be a much larger flourish of young Scottish filmmakers to accompany the proposed independence.
"I know what I want to be doing in 10 years, but what I will be doing in 10 years doesn't necessarily rely on where Scotland will be.
"We'll have a much better idea when the Scottish people, including a whole new electorate, decide where Scotland wants to be."