Scottish referendum: First time voters write about their Scotland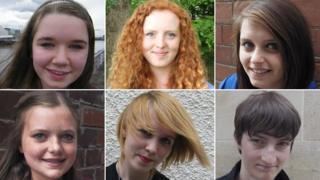 The Scottish independence referendum takes place in exactly one year's time - 18 September, 2014.
When voters in Scotland go to the polls they will be asked a straight yes/no question: "Should Scotland be an independent country?"
For the first time the franchise will include 16 and 17-year-olds.
Fifty young people who will be eligible to take part in the referendum next year have signed up to the BBC's Generation 2014 project.
The boys and girls are going to offer their opinions on TV, radio and online.
Here, six of those youngsters write about what they hope the future holds for them and their country.
Sarah Macdonald
"For me, the future is a mix of excitement, worries, dreams, dangers, hopes and imagination all merged into a giant hazy mass of opportunity.
"The way I imagine myself in 10 years' time changes from day to day.
"Sometimes I see a high-flying lawyer, fighting for equality and justice; other times I become a pastry chef, cycling along the cobbled pavements of Paris; or a writer, sitting by an open fire place, reading, drinking tea by the barrel and dedicating my life to books in the middle of nowhere.
"All I know is that I want to be doing something I love, in a world in which I feel proud to have made a difference and to always be able to return home, to Scotland, whenever I please."
Erin Fyfe McWilliam
"Where I would like to be living and what I would like to be doing in ten years time isn't far from a fairytale story, but a girl's allowed to dream, right?
"I'd like to be on a beach, in Australia, taking in the sun as my boyfriend, who would just happen to be a model, is surfing the waves.
"But in reality, I would still be in cold, wet Scotland, fighting the streets from any crime. I guess more of a super hero story than a fairytale one.
"I see myself as a police officer - without having to suffer the wrath from males that I, as a woman, would be taking on a man's job in a man's environment.
"In 10 years' time I'd like to hopefully be living in a country with less crime rates, sexual discrimination and a lot less racial discrimination."
Luxor McGowan
"In 10 years' time I'd like to be living in the centre of a big city abroad as I like to travel and want to experience different ways of living.
"I would hope to be on the path to a job that I really enjoy doing and, at the same time, still be in touch with all my old friends and have made many more friends. I'd also hope to have found a hobby and be really good at it.
"In 2023 in Scotland I'd expect everywhere to be more technologically advanced so you would get a mobile signal and internet everywhere and everybody will be doing more online. In the future, most media will come downloaded online and the e-books will take over a lot of libraries.
"Fuel won't be relied on as much and more people will be using electric vehicles."
Ellie Kean
"Ten years into the future I always thought of Scotland being a community. A clean, healthy community with a significantly lower amount of antisocial behaviour/violence.
"I picture myself with the teaching degree I have always desired, teaching the next generation of Scots in a colourful and vibrant classroom.
"My family and I would be happy and proud to be Scottish as we walked through our new community.
"I would certainly like to be in this position in 10 years time.
"I personally believe this is possible as there are many new regimes in place that are redesigning and rebooting broken down communities as we speak."
Ida McVarish
"I have two almost contradictory career paths I could go down. Both would have me in very different positions, in 10 years' time.
"My first choice would be to go to a good university and study forensic psychiatry or forensic psychology. This would mean that in 10 years' time I would, hopefully, be starting a successful career in forensic psychiatry/psychology.
"By this time I hope I would have helped a couple of criminals cope with and come to terms with their mental health issues.
"My second career choice would be to join the Armed Forces. If this were to happen, in 10 years' time I hope I would be considering a higher rank in the army and would have been in many different situations. I hope that in 10 years I would have helped protect and serve the country.
"Looking at the question of where I would live - well, I would like to live in California or somewhere warm and exotic like that, but to be completely honest I will probably still be living in Scotland."
Rory Doherty
"Where will we be in 10 years? Or, where do we think we will be and where do we want to be. Two very different questions that have the possibility of having the same result.
"I'm not sure where Scotland will be in ten years, because so far what Scotland wants is much divided.
"What Scotland actually wants will depend on the overall outcome of the referendum; whether we will become independent or the parliament is granted more devolved powers is yet to be seen.
"Studies show that on the whole Scotland's population would not vote for independence, but still with at least a year until the referendum, a lot could change."