Alex Salmond calls for Holyrood power to disqualify MSPs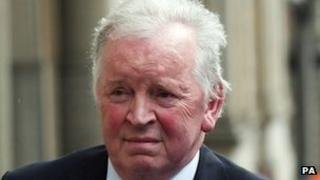 Alex Salmond has called for Holyrood to be given power over the disqualification of MSPs.
The first minister has written to UK Deputy Prime Minister Nick Clegg urging action following the conviction of MSP Bill Walker for a series of domestic abuse-related offences.
The 71-year-old was convicted of 23 charges but has refused to resign his Scottish Parliament seat.
Scottish Secretary Michael Moore is seeking talks over the Walker case.
He said he would be writing to Holyrood's presiding officer and political leaders in an effort to finding the "right outcome".
In the rules, laid down by Westminster, parliamentarians are only automatically expelled if they are jailed for more than a year.
However, the maximum sentence that can be handed down in summary cases heard in sheriff courts in Scotland is one year.
Walker, from Alloa, carried out the attacks against his three ex-wives and a stepdaughter between 1967 and 1995.
'Right outcome'
The independent MSP for Dunfermline is due to be sentenced later this month and faces losing most of his salary if he is jailed.
He was ejected from the SNP when the domestic abuse allegations surfaced.
Mr Salmond told Mr Clegg there was "an unanswerable case that these are matters that the Scottish Parliament should be in a position to address on its own account rather than relying on Westminster".
The first minister and other politicians have already demanded that Walker resign, with an overwhelming majority of MSPs having signed a motion submitted by Scottish Liberal Democrat leader Willie Rennie urging him to step down.
Mr Salmond told Mr Clegg: "The fact is that the existing devolution settlement means that the Scottish Parliament does not have the necessary competence to legislate in this area.
"It is my clear view that the Scottish Parliament should have the ability to decide for itself the arrangements for the disqualification of its own members.
"I would therefore urge that, without delay, you put in hand the necessary steps to provide the Scottish Parliament with legislative competence over parliamentary disqualification and the recall of MSPs."
Power of recall
In the meantime, the Scottish secretary plans to write to the leaders of Scotland's political parties and presiding officer Tricia Marwick proposing talks on the issue.
It is understood one option to consider is that the powers on disqualification are transferred to Holyrood, where they could then be amended.
Mr Moore said: "It is wrong for someone convicted of domestic abuse to serve as an MSP.
"The right course of action would be for Bill Walker to resign.
"There is currently no sign that this is likely to happen and I am writing to the presiding officer and party leaders with a view to finding the right outcome to deal with all the relevant issues that this case raises."
A Scottish Parliament spokeswoman said: "The presiding officer looks forward to receiving the Secretary of State for Scotland's letter and to working constructively with him and party leaders on this important issue."
Currently, the UK Parliament has no power of recall for MPs, but the coalition agreement between the Conservatives and the Liberal Democrats states they will bring forward legislation to "introduce a power of recall allowing voters to force a by-election where an MP is found to have engaged in serious wrongdoing and having had a petition calling for a by-election signed by 10% of his or her constituents".