Scottish independence: 'No plans' to update donor lists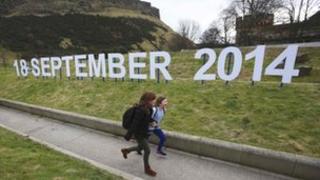 Neither of the companies campaigning to win the Scottish independence referendum will give details of when they plan to update their list of financial backers.
Details were last made public in the spring.
Both the pro-Union Better Together and pro-independence Yes Scotland organisations have said they will be transparent and open.
But neither has any timetable for when donations will next be declared.
Better Together told the BBC they plan to publish details periodically.
'Full disclosure'
Yes Scotland say they had tried to come to an arrangement with their main rivals, led by the former Chancellor Alistair Darling MP, to publish simultaneously but this had been ignored.
A spokesperson for Yes Scotland said: "'We are committed to publishing details of donations and have already done so for the period from our launch in May of last year till the end of March 2013.
"We wrote to Alistair Darling earlier this year to suggest that both campaigns publish this information simultaneously, but there was no response to what we regarded as a sensible approach.
"We will, however, publish a further update on donations received in due course."
A spokesman for Better Together said: "Our campaign will, voluntarily, release information about people who have made a donation to help keep Scotland a strong part of the UK.
"We made a full disclosure earlier this year and will make more in the months leading up to the regulated period."
Oil company
In April, Better Together revealed they had received £1.1m, with their biggest donation from oil trader Ian Taylor, while Yes Scotland received £1.7m, with their biggest donors being lottery winners Colin and Chris Weir.
Better Together has accused Yes Scotland of being funded "overwhelmingly" by the SNP and SNP donors.
First Minister Alex Salmond suggested Mr Taylor's £500,000 donation to the pro-Union campaign should be returned because of controversy surrounding his company Vitol.
In 2007, Vitol was heavily fined by a New York court after admitting making payments to the national oil company in Saddam Hussein's Iraq which were outside the UN's oil for food programme.
Vitol was also reported to have paid $1m to the notorious Serbian paramilitary Arkan as part of an oil deal in the 1990s. The company said it had not acted illegally.
Neither Better Together or Yes Scotland are required to publish financial details until they are regulated by the electoral commission, which happens 16 weeks before the 18 September 2014 referendum.