Labour's Lamont 'to reflect' on party's political levy review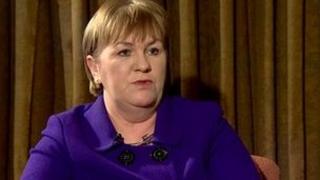 The leader of Labour in Scotland said she "looked forward to and would reflect on" the findings of a party review into the political levy.
She was responding to UK leader Ed Miliband's proposal to end automatic fees to Labour from affiliated trade union members.
The move comes in light of a row about the Unite union's alleged influence on parliamentary candidate selections.
It was accused of trying to influence the process in the Falkirk seat.
It had been claimed that Unite encouraged its members to join the constituency Labour Party in order to provide electoral support to a favoured union candidate for the Westminster constituency, currently represented by Eric Joyce.
The union - one of the party's biggest donors - argued it did nothing wrong.
Labour officials have now taken charge of the Falkirk candidate selection process.
Mr Miliband, who was addressing a gathering in London, proposed that only those union members who "deliberately" chose to join the party in future would do so.
Under the current system, members of supportive unions pay an automatic levy to Labour, unless they choose to opt out.
Mr Miliband said former Labour Party general secretary Ray Collins who, as a TGWU official, helped steer the merger with Amicus to create the Unite union, would lead discussions with the trade unions on proposals to change the political levy.
Ms Lamont, who was speaking for the first time since the row erupted, said: "When I was elected Scottish Labour Leader, I was clear that we had to open up our party and involve the people we wish to serve. So any steps that we can take to reach out to the country and let them inform our politics are welcome.
"I look forward to the work being carried out by Ray Collins and will reflect on what this means for Scotland when he produces his findings.
"Our party was founded on its links to the trade union movement and this has been a force for good in Scotland and across the United Kingdom. I am confident that ordinary working people will continue to shape our party's politics and direction as they have always done."
Mr Miliband announced other changes including;
Introducing spending limits and having a code of conduct for candidates in Labour selection contests
Having an "open primary" for the selection of the Labour candidate for the 2016 London mayor and potentially in other contests
And holding a consultation on the amount MPs can earn from outside interests and introducing rules to prevent conflicts of interest