Scottish independence: Put your questions to Nicola Sturgeon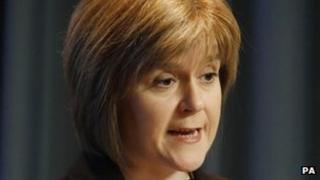 Scotland's Deputy First Minister Nicola Sturgeon will be in the hot seat to answer your independence referendum questions.
She is the latest guest in a series of webcasts looking at issues surrounding Scotland's future.
In September last year, Ms Sturgeon was moved from her health post to a new role overseeing the independence vote.
If you have something to ask the minister, email newsonlinescotland@bbc.co.uk
Please put "referendum questions" in the message field of your email.
Scotland's electorate will go to the polls on 18 September, 2014.
Voters in the referendum will be asked the single yes/no question: "Should Scotland be an independent country?"
At the beginning of the year, Ms Sturgeon began blogging on the historic referendum.
In her first entry, the minister said she strongly disagreed with Scottish Secretary Michael Moore's stance that there should be no pre-referendum discussions.
She wrote: "It is clearly in the interests of both Scotland and the rest of the UK that such discussions do take place."