Scottish independence: National Pensioners Convention calls for clarity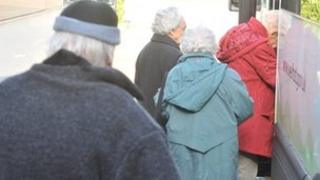 A campaign group has called for further clarity on how pensions would be paid in the event of a vote in favour of Scottish independence.
The National Pensioners Convention (NPC) wants to see more detail about entitlement and cross-border schemes.
The call came two days after a Scottish government-commissioned report set out plans to maintain the existing benefits system for a transitional period.
Voters go to the polls on 18 September 2014 to decide on Scotland's future.
They will be asked the yes/no questions: "Should Scotland be an independent country?"
Questions highlighted by NPC include:
How would the state pension be up-rated every year?
What protection would there be for Scottish pensioners if their schemes were to close?
And would universal pensioner benefits such as the winter fuel allowance continue?
NPC general secretary Dot Gibson said both sides of the debate had to "tell the truth" about how pensions might be affected.
She added: "It would be completely wrong to keep this information back until after the vote had been taken.
"Scottish pensioners have a right to know what sort of state pension they are going to get, how much it will be, whether or not it will go up each year, whether their occupational pensions are safe and if they are going to keep their winter fuel allowance and free bus pass.
"Clear answers to these very straightforward questions will then allow older people to make up their minds."
On Monday, the Scottish government's welfare working group reported that it was in the best interests of the Holyrood and Westminster administrations to have a transitional period over the delivery of welfare payments post-independence.
Deputy First Minister Nicola Sturgeon said she welcomed that conclusion and added that people wanted to know that benefits - including pensions - would be "delivered seamlessly from the point of independence".
However, Scottish Secretary Michael Moore said it was not credible for Scotland to leave the UK family, keep the welfare system, but change welfare policies.
He said he was also disappointed that the Scottish government had not given more details about how it would deliver its policy of a fully separate welfare system in the longer term.
In April, the Institute of Chartered Accountants of Scotland (ICAS) said that changes to pension rules with independence could force "substantial" costs on employers with unfunded schemes.
European directives mean UK-wide schemes would be deemed "cross-border" and require to be fully funded, the group argued.