'Courteous behaviour' as committee backs court closures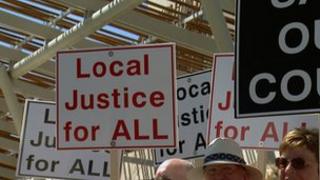 An exceptionally difficult morning for the SNP at Holyrood - or, more precisely, for those supporters of the governing party on parliament's justice committee.
After nearly three hours of final scrutiny, the committee decided - by five votes to four - to back the closure of ten sheriff courts as part of a drive for savings and efficiency in the system.
The particular dilemma? Several of these courts are located in SNP-held constituencies. It is one thing to favour efficiency as a concept. It is quite another when the resulting target is your own proud locality.
For example, in the chair this morning was Christine Grahame, the MSP for Midlothian South, Tweeddale and Lauderdale.
In that role, she was convening a parliamentary meeting - which concluded with a vote in which she supported plans to close Peebles Sheriff Court in her own patch. Scarcely, you will agree, a comfortable position.
Persuasive endeavours
Ms Grahame was obliged to play a dual role this morning. Inviting and chairing speakers - including those who criticised her and fellow nationalists - while occasionally intervening with comments about the particular position in the Borders. Not easy. Welcome to democratic politics.
She noted, among other points, that Peebles business would in future go to Selkirk, thus being retained in the Borders. She noted the promise about future justice centres. She acknowledged the pressing need to find savings.
As did her colleague Rod Campbell, North East Fife, who was left regretting the closure of Cupar Sheriff Court. Mr Campbell, an advocate, was obliged to concede, quietly, that his persuasive endeavours had failed to achieve a change of mind.
On the committee, the governing party secured the continued support of the independent John Finnie, Highlands, who had quit the SNP over Nato. He spoke of tough financial times - and tough decisions as a consequence.
Sundry Labour MSPs such as Lewis Macdonald and Jenny Marra accused the nationalists of hypocrisy, arguing that they had supported the retention of local courts in the past, sometimes highly volubly.
This argument was underlined by the Conservatives and the Liberal Democrats. Indeed, the three parties had combined in seeking to annul the plans which emerged from the Scottish Courts Service.
'Way forward'
In advance of today's vote, Lord Gill, the Lord President of the Court of Session, had argued that many courts were under-performing and failing to provide a modern service, with modern facilities. He noticed further that the courts service had "no choice in the matter", given constraints upon their budget.
Addressing the committee today, the Justice Secretary Kenny MacAskill - responsible, collectively with colleagues, for those constraints - was notably rumbustious.
He said: "This is the way forward". He said that the reforms were essential, given prevailing budgetary circumstances. He said his opponents had failed to provide alternative ideas for savings. Did they want the emphasis to be upon 19th century buildings - or staff and facilities.
And so to the vote. As convener, Christine Grahame thanked her fellow MSPs for their "courteous behaviour" in handling such a sensitive and difficult issue.
It seems unlikely that such courtesy will prevail when these individual decisions are considered in the county towns across Scotland which are affected. Sometimes political life is just tough.