Scotland's hospital consultant numbers to rise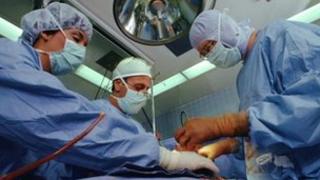 The Scottish government is making a £3m investment to fund more than a dozen new hospital consultant posts.
The cash, being provided over the next three years, will pay for about 14 full time positions and four part-time jobs.
However, the government said it expected health boards to provide additional money to make those part-time posts full-time.
Three of the jobs will be created in Greater Glasgow and Clyde hospitals and two each in Ayrshire and Lothian.
However, there will be no new consultants in the Western Isles, Orkney or Shetland.
Health Secretary Alex Neil said recruitment would start immediately.
He added: "This is a significant investment and is testimony to how seriously we are taking the work to improve services for our patients.
"More people than ever before are coming to hospital as emergency admissions due to the ageing population. We need to make sure emergency services are fit for the future.
"That's why our task force is moving swiftly with plans to transform unscheduled care in Scotland."
Care expert Jim Crombie, who advised the government on the care plan, said that it had been proven that when a consultant leads the service, patients receive more effective and efficient care.
He explained: "In many cases this can mean that patients do not need to be admitted to hospital but rather have rapid diagnosis of their problem, treatment options discussed and agreed then initiated in the A&E department and as these rapid interventions take effect, these patients can be released home.
"This is the first phase of our comprehensive investment programme that will look at the whole range of systems and teams that provide emergency care. The task force are committed to ensuring a transformational change in how we deliver services."
The College of Emergency Medicine said it welcomed the investment.
The move to increase consultant numbers was part of a government initiative announced in February in which it was pledged that £50m would be invested over the next three years to improve services for patients across Scotland.