Scottish independence: Counting the economic 'goodies'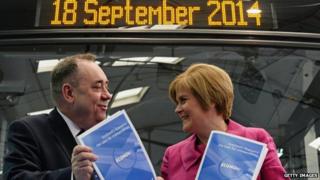 It opens a little like a tea towel. You know, the one that lists all those many inventions by Scots - from television to penicillin and points in between.
While it is always encouraging, indeed joyous, to hear again the many achievements of those north of the Tweed and Solway, there is of course a practical, political purpose to today's litany, included as it is within the document setting out an economic case for independence.
With regard to such an endeavour, there are two fundamental options. The authors could recite a series of grievances and invite the voters to follow in flight from the existing political structure.
Or the authors could provide a list of possible advantages, perhaps masked or thwarted - and invite the voters to fight for the full implementation of that potential under a changed set-up. Fight or flight.
Today's publication by the Scottish government opts very strongly for fight. It lists in some detail Scotland's goodies - oil, renewables, food and drink, manufacturing, IT, creative industries etc.
Then it argues that long-term UK economic policies have been directed at boosting the City of London in particular while, by contrast, it is claimed that policies tailored to Scottish circumstances could have generated a higher level of growth.
Again, this strategy is not accidental. It accords with Alex Salmond's fundamental thinking, that Scots will only opt for independence when they feel sufficiently confident in themselves and when that confidence overwhelms the apprehensions which people feel about ending a 300-year-old Union.
And that thinking is based upon the popular perspective. What are SNP canvassers hearing on the doors? Again and again, they tell me they hear uncertainty as people let I dare not wait upon I would, like the poor cat in the adage.
To be fair, canvassers for the other side argue that such uncertainty is beginning to solidify in their direction, that it is turning to distinct opposition to independence.
Such are the vicissitudes of canvassing. But Nationalists also remember that Scottish Social Attitudes survey which suggested that Scots would back independence by two to one - if they could be convinced that they would be £500 better off.
Therein lies the dilemma for the Nationalists - and indeed for any political campaigner seeking to overturn the status quo. They must posit the prospect of improvement - without engendering too much fear by the apocalyptic nature of their pronouncements about the current set-up.
And so they talk of Scotland's strengths: potency which, they argue, could be enhanced by independence.
In response, rivals say there is a contradiction in today's document. They say it talks of Scottish economic advantages which, they argue, are due at least in part to the stability of the Union and the availability of a large market in England.
Supporters of the Union are also scathing about the lack of detail with regard to economic policy post independence. The document exemplifies a couple of ideas: control of Air Passenger Duty and improved child care.
Is that it, say rivals? APD? Well, no, of course that is not it. This is not an economic manifesto - such a document would be produced during an election to an independent Scottish Parliament.
Nevertheless, it is understandable that supporters of the Union will challenge Nationalists to say, in more detail, what they might do with the powers of independence.
However, that is not today's task which is, primarily, to draw together the various economic disadvantages which Nationalists say are pervasive within the Union - just as the advocates of Union are setting out the gains which they perceive from sustaining the Treaty.