Scottish independence: British identity 'key to referendum'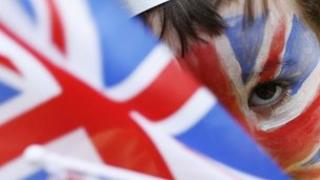 People's sense of Britishness is one of the major keys to winning the Scottish independence referendum, according to a study.
Professor John Curtice of Strathclyde University used the Scottish Social Attitudes Survey (SSA) to examine people's attitudes to independence.
He suggested how Scottish someone feels makes "remarkably little difference".
But their sense of British identity is closely linked with how they are likely to vote in the referendum.
According to the 2012 SSA, 46% of those who say they are Scottish and not British support independence, compared with just 4% of those who say they are British and not Scottish.
Professor Curtice argued that if little more than half of those with a strong sense of Scottish identity backed independence, then for many people having a strong Scottish identity is evidently not a sufficient reason to favour that course of action.
But among those who feel very little sense of British identity, 53% support Scottish independence.
Thereafter, the more strongly British someone feels, the less likely they are to support for independence - with just 9% of those with the strongest sense of British identity backing the idea.
Professor Curtice wrote: "In so far as the independence debate is about identity, it is the intensity of people's British identity that matters, not that of their Scottish identity.
"Scottish identity is a near ubiquitous attachment that unites rather than divides most people in Scotland.
"It is how British they feel that divides them, and is reflected in different attitudes in the independence debate.
"Even so, the independence debate is still clearly not just about identity. Even amongst those with no feelings of Britishness at all, only around half support independence."
People's views also reflect their perceptions and expectations of the economic implications of different constitutional options, he argued.
Scots do not necessarily think their country gets a particularly advantageous deal out of the Union, Professor Curtis suggested.
But in recent years they have become less likely to think that they get a raw deal - and especially so since the SNP first came to power in 2007.
'Economic argument'
The professor said: "In recent years consistently around one third have felt the country's economy would be better (after independence), a third have reckoned it would be worse, while some one in four or so believe it would not make much difference.
"It would seem that the economic argument has so far not been won or lost by either side in the independence debate.
"Even for those whose sense of British identity is not strong, leaving the Union is only to be contemplated if they are inclined to believe that Scotland gets a raw deal out of the Union and/or that independence would deliver a stronger economy than the country enjoys now.
"In the absence of such perceptions most Scots appear inclined at present to stick with the deal they have currently got.
"The Yes side have to persuade people - of all ages and all classes - not only to leave aside their feelings of Britishness but also that the British Union is no longer capable of delivering."