Scottish referendum: New independence pension schemes 'like building an NHS'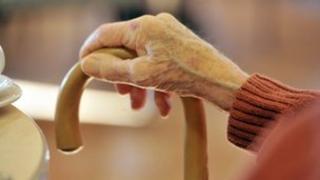 A committee of MPs has been told that sorting out pensions in the event of Scottish independence would be like building an NHS.
Accountant Ronnie Bowie made his remark during evidence to MPs on the Scottish Affairs Committee at Westminster.
The politicians are examining a number of issues ahead of the Scottish independence referendum next September.
The committee also heard from members of a professional accountancy body and academic Prof David Bell.
Mr Bowie, who was asked about the pensions system post-independence, said: "This is all about implementation risk and implementation costs.
"To get an implementation plan to cover all the scenarios is extraordinary complex and expensive.
"It's a bit like building an NHS."
During two hours of evidence, the committee heard from Mr Bowie, a senior partner with Hymans Robertson; Prof Bell, from Stirling University; executive director of the Institute of Chartered Accountants of Scotland (ICAS), David Wood and Christine Scott, ICAS' assistant director, charities and pensions.
The committee quizzed the experts on whether there could be a separate pensions regulator and separate pensions protection fund in an independent Scotland.
The panel agreed the way ahead would be complex and a well-developed transitionary period would be needed.
MPs heard that all existing public pension schemes were under-funded because the amount of contributions going in was in decline and the number of pensioners drawing from those schemes was going up.
Cross-border schemes
They were told that there were about 6,300 defined benefits pension schemes in the UK. Of that number some 5,000 were in deficit to the tune of £230bn.
Under EU rules, cross-border pension schemes must be solvent, but deficits are allowed for those schemes that operate within member states.
If Scotland's electorate votes for independence on 18 September 2014, then some pension schemes would go from pan-UK to cross-border and therefore be subject to the "no deficits" EU rules.
ICAS, in a report last week titled Scotland's Pensions Future: What pensions arrangements would Scotland need?, suggested there could be "major cost and cash flow implications for employers" with deficits required to be paid off on the day of independence.
Its director Mr Wood told MPs there would have to be an agreed "principled approach" about the way forward.
He reiterated the three solutions on offer, which were outlined in the ICAS report.
They included;
splitting schemes up into Scottish and rest of the UK versions
having an exemption for existing UK-wide pension schemes
or a lengthy grace period for the achievement of full funding on a technical provisions basis.
Mr Wood said that in sorting out the deficits some firms would face bankruptcy.
Chairman of the committee, Labour MP Ian Davidson, asked Mr Wood if ICAS had met with the Scottish government to discuss its suggestions.
Mr Wood said his organisation had not met with ministers or officials at Holyrood, but he expected to do so "in due course".
Last week First Minister Alex Salmond said there would be "no difference" to the length of time given for firms to pay off their pension deficits after independence.
And his Finance Secretary John Swinney had previously told the BBC: "If you look at the approach the EU takes on a whole variety of different questions, the EU makes provision for longer timescales to be implemented in certain circumstances.
"That is exactly the area that we would explore with the European authorities and the United Kingdom government".
Scottish government officials are currently working on a pensions paper, but there are no details of when it will be published.