Queen's Speech: The words of others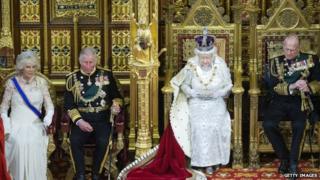 Quoth Her Majesty from the throne: "My government will continue to make the case for Scotland to remain part of the United Kingdom."
Was this the Sovereign entering into the debate about Scottish independence? Older heads cast an eye back to a speech by the Queen in 1977 in which she appeared to question the plans, then extant, for devolved self-government.
However, older and wiser heads noted a key difference between the two remarks - and concluded that in today's speech the Queen was simply following the counsel of her ministers, as is customary and indeed constitutional.
The speech in 1977 was an address by the Queen to both Houses of Parliament, marking her Silver Jubilee. It was, thus, the view of the Palace - not directly of the government. In that speech, she reflected upon the aspirations for a degree of self-government in Scotland and Wales.
She then went on to note: "I cannot forget that I was crowned Queen of the United Kingdom of Great Britain and Northern Ireland."
That was interpreted then - rightly - as a Royal rebuke to the more fervent advocates of self-government. However, after the establishment of a Scottish Parliament, the Queen repeatedly stressed the concept of people in Scotland choosing the system of governance which suited their wishes.
Today, in delivering the Gracious Speech, Her Majesty was reading out words written for her by others, by her Ministers and their advisers.
In so doing, she was no more offering a personal endorsement of the campaign to counter independence than she was backing the UK Government's stance on immigration and pensions - which feature elsewhere in the Speech.
Those advocating the Union may well feel that it helps their cause to have the issue featured in the Queen's Speech as evidence of the prominence attached to the topic by Her Majesty's Government. But, strictly, we can read no more into it than that.
By-election date
Back at Holyrood, we now have the date for the Aberdeen Donside by-election. It is to be on Thursday the 20th of June.
Will that turn into a dry run for the referendum, particularly as the leading contenders in the constituency are the SNP and Labour, the two largest parties on either side of the Scottish constitutional division?
Folk locally think not. It will feature of course - it is at the core of current Scottish politics. But the view from Aberdeen is that there are huge constituency issues - such as roads provision - which will predominate.
The contest, in that sense, may be between two political records, as they impact upon Aberdeen: the SNP Scottish Government and the Labour-led city council.