Queen's Speech: UK government to make case against Scottish independence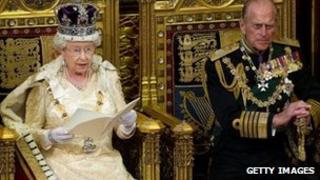 The Queen's Speech has set out the UK government's pledge to continue making the case for Scotland to remain part of the Union.
Towards the end of the address, lasting seven minutes and 38 seconds, the Queen outlined what her coalition government intended for the devolved nations.
For Scotland she said: "My government will make the case for Scotland to remain part of the UK."
Scots voters will take part next year in a Scottish independence referendum.
They will be asked on Thursday, 18 September, to answer the straightforward yes/no question: "Should Scotland be an independent country?"
The Queen set out the government's plans in a speech written for her by the government amid the traditional pomp and ceremony of the state opening of parliament.
She told MPs and peers her government's "first priority" remained strengthening Britain's economy and it would "continue to prioritise measures that reduce the deficit".
Her Majesty added: "It will also work to promote a fairer society that rewards people who work hard."
Other measures announced in the Queen's Speech include:
Exempting employers from the first £2,000 of their National Insurance payments
A bill paving the way for the second tier of funding for High Speed 2 rail line and another to give government the power to compulsorily purchase land
Tightening up consumer protection to make it easier to claim refunds
And a Pensions Bill will introduce a single-tier pension, worth about £144 a week at today's prices, and will bring forward to 2026 the date at which the retirement age rises to 67
The Secretary of State for Scotland Michael Moore said the bills set out in the speech were good for Scotland.
He added: "The UK continues to deliver positive change for Scotland under devolution, supporting families with childcare costs, bolstering the economy and business and protecting pensions.
"The bills and measures we are setting out today are good for Scotland and strengthen the position of employees and employers alike. They will also make progress on issues such as the future of our high-speed rail network. The next session will see this government continue to focus on families, fairness and the future."
There are 13 bills which apply in Scotland, either in full or in part, from a total of 15.
Responding to Her Majesty's address, SNP MP Angus Robertson said: "This speech underlines exactly why Scotland needs good government with independence - not bad government from Westminster.
"The speech shows that Westminster isn't working for Scotland. Instead of boosting economic growth it is focusing on a lurch to the right politically, and is out of touch with the people of Scotland."
Labour's Shadow Scottish Secretary, Margaret Curran MP, said the speech was "weak" from a "tired" government that was "running out of ideas".
"People across Scotland are looking for action to get our country moving. There was nothing in this speech to boost employment, no action to tackle rip-off energy companies and not a single move to ease the squeeze on families who are struggling to make ends meet.
"Scots are being let down by two governments who aren't taking the action we need to get Scotland back on track. We had an empty legislative programme from the Scottish government last year and now we have the same from the UK government."