Unison claims council tax freeze 'benefits the wealthy'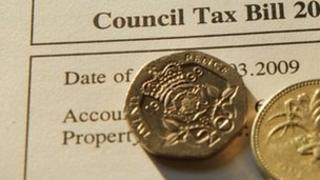 The Scottish council tax freeze disproportionally benefits the wealthy, according to research by a union.
Unison said people in the most expensive Band H homes saved on average £441 per year while those in the cheapest homes saved £147 a year.
The union claimed increased charges for services such as rent had far outweighed the claimed savings.
A Scottish government spokeswoman said the freeze had provided "much-needed relief" to hard-pressed families.
Council tax bills in Scotland have been frozen since 2007 under an agreement between the Scottish government and local authorities.
Unison asked all 32 councils under Freedom of Information legislation how their charges had changed during the past six years.
Among the responses highlighted by the union were rent for a three-bedroom council home in Edinburgh rising from £61.57 per week to £85.55 - an extra £1,237 a year.
The union said that was more than the average Edinburgh council tax bill of £1,098, and even more than the normally-quoted band D charge of £1,169.
The charge for school meals in Argyll and Bute has gone up from £1.60 to £2.10 since the Council Tax was frozen in 2007, which equates to £5 extra a week for a family with two children - or a rise of £200 a year.
Unison also said councils were introducing charges for attendance at day centres for elderly and disabled residents, with East Dunbartonshire now charging £10 a week, while Falkirk has introduced a charge of £23.50 per visit for people with learning difficulties.
The union has called for a new debate over the Council Tax freeze - which it said mainly benefitted those living in better off neighbourhoods.
Dave Watson, Unison Scotland's head of bargaining and campaigns, said: "It is clear the Council Tax freeze is costing public services - and those who rely on them most - very dearly indeed.
"The responses reveal that people on modest incomes are having to pay far more for costs like their rent, school meals for their kids, and charges for care in daycentres for their vulnerable relatives - and still services are being cut back.
"Meanwhile those in the leafier suburbs benefit most from the unfair Council Tax freeze. It is not socially just or fair.
"It is much fairer for everyone to pay a small amount extra in tax than have big increases in charges that bear no relation to ability to pay for services."
Parliament's lifetime
The Scottish government spokeswoman said: "Lower income households, who are liable for council tax, are estimated to see the greatest benefit as a proportion of their household income."
She said the average household would benefit by about £1,200 by the end of this parliament in May 2016.
"In addition we have taken steps with Cosla to protect those on council tax benefit from cuts imposed by the UK Government
The spokeswoman said the Scottish government was committed to continuing the freeze for the lifetime of this parliament.
Scottish Labour's Sarah Boyack said: "The SNP need to be honest about the fact that their council tax freeze is underfunded and puts councils in a financial straightjacket. We need an honest debate about how services are funded."