Finance minister Swinney calls for Scottish economic forecast unit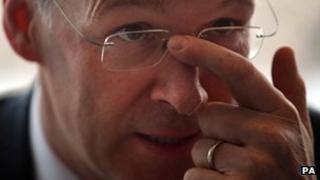 Scotland's Finance Secretary John Swinney said he was keen to set up a Scottish alternative to the Office for Budget Responsibility (OBR).
The SNP minister had been critical of the London-based unit which conducts economic forecasts on a UK-wide basis.
Mr Swinney outlined his views to MSPs on Holyrood's finance committee.
Opposition members were critical of his stance, saying his bid for change was based on him currently being given "inconvenient facts".
Currently, the OBR has a role in estimating tax receipts. However, that will come under the control of MSPs as part of further devolution scheduled for April 2015.
Mr Swinney told the committee: "I found the original OBR forecasts on landfill tax inexplicable, utterly inexplicable.
"Any rudimentary assessment of the performance of this area of policy in relation to waste-to-landfill in Scotland would identify that the trajectory for landfill tax must be going down because of the effectiveness of recycling initiatives and the increasing propensity right across the country for more recycling activity and less landfill activity.
"So, to set out a prediction which in the budget in 2012 went to £115m in 2011/12 to £157m in 2016/17 was just beyond my comprehension."
Mr Swinney said the OBR had since revised its estimate, but he was still concerned.
He told the committee: "If we take the variation in 2016/17 of 33% between where the OBR were 12 months ago and where they were last month it is just a bit concerning, if I can put it like that."
Mr Swinney also described OBR predictions for the new Scottish land and buildings tax, which will replace stamp duty, as seeming "over optimistic" given the state of the housing market.
When asked if he had considered setting up an alternative version to the OBR, Mr Swinney said: "My view is that Scotland will require to have an independent forecasting body that can provide independent assessment to both the government and to parliament as to what may be generated as a consequence of these taxes and I am giving consideration as to how that should be established."
The announcement brought criticism from Scottish Lib Dem leader Willie Rennie.
He said: "John Swinney doesn't like the answers he's been given on the economy, so he's cooking the books and looking to appoint his own chef.
"In his Budget speech in January, John Swinney was happy to cite the OBR when it suited him. As soon as the OBR provide inconvenient facts John Swinney resorts to trashing its reputation.
"The nationalist's obsession with independence is clouding their vision to the point where they'll only surround themselves with yes men. Setting up a ministry of half truths won't cover up the holes in the nationalists independence assertions on the economy."
Labour's finance committee member, Michael McMahon, echoed Mr Rennie's comments.
He said: "It's only right to be slightly suspicious that as soon as the OBR put out figures which disagree with the SNP, John Swinney decides to set up his own budget review group. John Swinney will try to create an organisation which will agree with him.
"As usual, the SNP simply don't want to listen to anyone who disagrees with their policy or views."
Conservative finance spokesman Gavin Brown said that in theory, the idea of an independent expert group scrutinising decisions made by the Scottish government was a good one.
He added: "We believe the OBR plays an important role in taking the politics away from the economy and delivering both good and bad news to the government.
"The important point from a Scottish point of view is that any body would have to be independent, be seen to be independent, and be utterly transparent."