Fixing the news: Consensus on dealing with the Press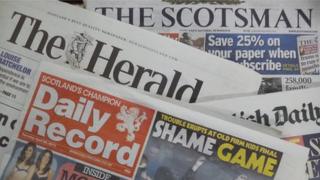 Consensus at Holyrood this afternoon on the subject of how to deal with excesses by the Press - with all parties signed up to a scheme which would involve a tailored Scottish adjunct to a UK system.
The consensus itself is not accidental. It has emerged from detailed discussions involving the party leaders and also reflects, at least in part, the evidence given to a Parliamentary inquiry.
However, the consensus is interesting - with several intriguing facets.
Firstly, the fact that Holyrood is prepared to attach itself to a UK-wide scheme. I think that reflects the cross-border nature of the modern media - together with a plea from Scottish newspaper editors to the effect that a stern, distinct system in Scotland would be costly and, arguably, unfair in that most of the excesses occurred in England.
Secondly, that Holyrood has turned its back upon the approach suggested in a review commissioned by the Scottish government, led by Lord McCluskey. That called for statutory regulation on a universal basis in Scotland.
The Culture Secretary Fiona Hyslop praised his Lordship and his team, thanking them for their unpaid work - but then proceeded, ever so gently, to bury their endeavours once more. Compulsion, she argued, was not appropriate at this point - although it might have to be kept in reserve.
Thirdly, the tone. Consensus on how to deal with the press does not mean that MSPs are uniformly delighted with the media. Very far from it. The debate was peppered with repeated examples of complaints about the press raised by members' constituents.
And the deal? That MSPs broadly back the proposal advanced by the UK government, following talks, that there should be a new system of self-regulation for the press - and that this should be underpinned by a Royal Charter which would, in essence, set the criteria for this system of regulation.
To that end, MSPs agreed to advance plans to amend the UK system to make it compliant with Scots Law.
In addition, they agreed to push for sensitive treatment with regard to reports featuring the recently deceased where the only public interest is the circumstances of the individual's death. That is in response to a particularly contentious case pursued by a Scottish mother, Margaret Watson.
So the framework is there for the Scottish dimension of press regulation. Which brings us to the fourth intriguing element. Are MSPs attaching themselves to a mirage?
Will the UK government's Royal Charter go ahead - when it has been sharply criticised by sections of the newspaper industry as a back-door method to constrain press freedom. Those newspapers have advanced an alternative plan.
Might Holyrood's efforts be in vain? No, says Ms Hyslop. Whatever system emerges - and she prefers the UK government one - then it requires to be adapted to Scots Law.