Leveson Inquiry: MSPs call for UK-wide regulation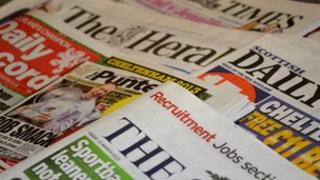 Holyrood's education and culture committee has called for a UK-wide approach to regulation of the press.
The committee has been looking at ways Scotland might implement the Leveson report on the media.
Committee convener Stewart Maxwell said they had concluded that a UK-wide Royal Charter could give the press "one final opportunity to change". Failing that, legislation would be required.
Scottish party leaders will hold talks on the issue on Thursday.
Mr Maxwell said: "The newspaper industry in Scotland is rightly proud of its role within Scottish public life. But where there is freedom of the press there is also responsibility to ensure fair reporting.
"Within the short timescale available to us, the committee has listened to the views of witnesses who were clear that the press should be given one final opportunity to change.
"We feel a UK-wide Royal Charter allows the industry in Scotland, and indeed beyond, to do just that.
"For such a system to work, there must be participation of the press and this must be done willingly.
"Without this, the system will fail. Should that happen, then legislation must surely be the only option. The public would expect nothing less of its parliament."
In March a review of the implications of Leveson in Scotland chaired by Lord McCluskey recommended statutory controls underpinned by law.