Independent Scotland to be part of Nato, says Salmond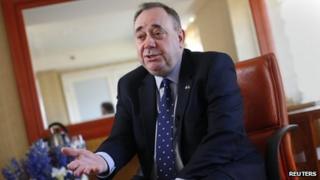 First Minister Alex Salmond has told an American audience that Scottish independence would not harm the country's international partnerships.
He was speaking at the Brookings Institution in Washington DC, during a visit to the United States.
Mr Salmond forecast that an independent Scotland would become an active member of organisations such as Nato.
On nuclear weapons, however, he insisted systems such as Trident should be removed from Scotland.
The SNP voted to change its position on Nato membership at its conference last year.
Mr Salmond said: "It could be argued that membership of Partnership for Peace would enable us to fulfil many of our defence requirements as does Ireland and Finland.
"But we understand why, in the international community, countries such as Iceland, Denmark, Norway, and indeed the USA - would prefer it if we signalled our intention to be part of the Nato Alliance as an independent country.
"Such a step would demonstrate clearly our commitment to working closely with those friends and allies.
During a visit to Scotland on 4 April, Prime Minister David Cameron re-affirmed his commitment to a submarine-based nuclear missile system.
He told workers at a Scottish defence contractor that the world is "very uncertain, very dangerous".
Mr Salmond, however, argued it would be "absurd" for Scotland to keep Trident.
He added: "An independent Scotland would not be a global superpower but we would be a good global citizen."