Train fares in Scotland set to fall by as much as 41%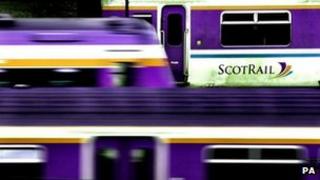 A new ticket pricing structure on Scotland's train network will see some fares slashed by as much as 41%.
The country's transport minister, Keith Brown, said the "decades-old fare anomalies of split-ticketing" would end, making 275,000 journeys cheaper.
He added that £2.28m in Scottish government money would see fares on routes such as Dundee to Portlethen go from £27.90 to £16.60, a 41% fall.
Transport Scotland and ScotRail have helped devise the new fares system.
Mr Brown explained that due to historic pricing regimes established in the franchise agreements of 2004, passengers had had to navigate their way through a fares database to find the best deal.
The new system will reduce split-ticketing ,which will result in cheaper fares for most customers buying one end-to-end ticket.
Mr Brown said: "We have always been clear on our commitment to getting more people on Scotland's trains and a major factor in that has been ensuring affordable and easily understood fare structures.
"We want a fares system which is quick and easy to use and which provides the cheapest fare possible. And that is what we and ScotRail are now delivering."
In general terms, the changes will mean that the end-to-end fare will be at least 50p cheaper than the cheapest "two ticket" option.
However, ScotRail has not addressed inconsistencies that may result from comparing "multiple leg" journeys, largely because of the huge number of potential combinations.
Less common combinations of fares may prove cheaper, but these will be much rarer than at present.
In addition, because Strathclyde had different off peak restrictions, the government admitted that some inconsistencies would remain.
Scottish Labour's transport spokeswoman Elaine Murray said: "We must welcome any fare reduction, but we need to remember that rail fares across Scotland are continuing to go up at a time when people's budgets are being stretched to the limit.
"So, while this is welcome news for Dundee passengers, let's find out where else this still happens and end the rail pricing madness."