EU deal 'avoids big cut' for Scots, says UK government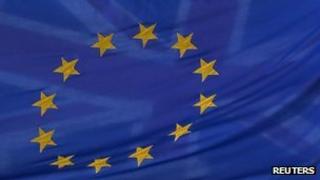 The UK government has announced an allocation of EU structural funds which it said will protect Scotland from a "big cut" in support.
Scotland, England, Wales and Northern Ireland will each see a 5% reduction.
Secretary of State for Scotland Michael Moore said Scotland's allocation would have otherwise fallen by 32%, or 228m euros.
The Scottish government said they were pleased that they had helped secure more funding.
Prime Minister David Cameron has written to First Minister Alex Salmond outlining the allocation of the spending.
Mr Moore said: "By sharing the cut in EU structural funds across the UK, the government is protecting Scotland from the big cut we would otherwise receive.
"Scotland will now get 228m euros more than it would if the EU funding formula was applied directly.
"By being in the UK, Scotland has not only got a better EU budget deal, we will also get better funding from Brussels - creating jobs and supporting communities."
Mr Moore dismissed as a "scare story" claims by the Scottish government that structural funding for Scotland could have fallen by 32%.
He added: "Now we can confirm that an independent Scotland would face that 32% cut - and only an independent Scotland - because it would not have the UK's flexibility.
"On structural funds, 228m euros is the price of leaving the UK family."
Representations
The Scottish government has claimed that the reduction in the cut is due to its lobbying.
Deputy First Minister Nicola Sturgeon said: "I welcome the fact that the UK government has at last listened to our representations and significantly revised Scotland's allocation of EU structural funds within the UK budget.
"The cuts of more than 30% to Scotland's allocation were communicated to us by officials in the UK Department for Business, Innovation and Skills in February and represented a bad deal for Scotland negotiated by the UK government."
Ms Sturgeon said the Scottish government voiced "deep concern" at the time.
She added: "Since then, Scottish government officials have been working with UK officials to identify an alternative allocation methodology.
"I am pleased to see that the UK government now recognises the importance of a fairer allocation of UK funding."