SNP conference 2013: Sturgeon says Scotland can afford to be independent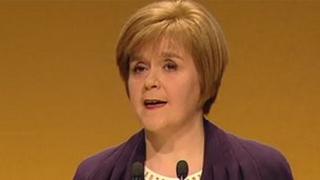 Deputy SNP leader Nicola Sturgeon has told her party's Inverness conference that Scotland can "more than afford" to be an independent nation.
She insisted that independence was not "optional" but "essential".
A referendum will be held on 18 September 2014 when Scots voters will be asked: "Should Scotland be an independent country?"
Ms Sturgeon also said the new benefit rules on under-occupancy would be scrapped if there was a yes vote.
There has been vocal opposition to the so-called bedroom tax which comes into force throughout the UK at the beginning of April.
Ms Sturgeon told delegates: "I can promise you this - in an independent Scotland - if we are the government - we will take housing benefit out of Universal Credit and restore it as a benefit that is paid direct to social landlords.
"And let me be crystal clear - an SNP government in an independent Scotland will scrap the bedroom tax."
The politician, who is also Scotland's deputy first minister, believed that key to winning the independence debate was "economic confidence".
She said: "Our task is to build that confidence - confidence in our ability to stand on our own two feet, confidence in our economic prospects and our job prospects. Confidence that we can build that better country we all desire.
"The other side - they want to destroy that confidence.
"So, they will never tire of running Scotland down.
"It is shameless. It is shameful. But they are banking on it being effective."
Ms Sturgeon went on to say: "Scotland can afford to be independent. We can more than afford to be independent.
"But we cannot afford to let Westminster continue to stifle our growth and squander the wealth of generations of Scots to come."
Tax revenue
Ms Sturgeon's speech comes in the wake of a leaked Scottish Cabinet paper which raised concern over the volatility of oil prices.
The Scottish government followed it up by releasing analysis in which it said Scotland could be in line for a "renewed oil boom".
Ms Sturgeon, giving the final key speech of the conference, said that for every one of the last 30 years Scotland had generated more tax revenue per head than the UK as a whole.
She added that having oil and gas reserves worth £1.5 trillion was "really not a problem".
The politician recognised that it was not the sum total of the economy but it was a massive advantage that other countries would "give their eye teeth for".