Scottish Parliament's presiding officer in government media row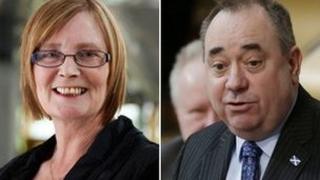 The Scottish Parliament's presiding officer has become involved in a row with the government over policy announcements made in the media.
Tricia Marwick urged ministers to treat parliament with respect, after plans for industry regulation were first reported by the BBC on Thursday.
The government said parliament had been given prior sight of the plans.
But Holyrood bosses said the notification consisted of a few e-mails sent late on Wednesday night.
They said this failed to meet guidance on good practice, set out in the ministerial code of conduct.
The issue emerged during first minister's questions, when Liberal Democrat MSP Tavish Scott complained that proposals by Finance Secretary John Swinney, relating to regulation in the event of Scottish independence, were first heard on BBC Radio's Good Morning Scotland programme.
This was followed up by a media release and a briefing to business leaders in Stirling, and Mr Scott said the proper forum for major policy announcements was the Scottish Parliament.
The MSP, who raised concern in a point of order at the end of question time, also said the issue had arisen before, when a previous report had been released to The Sun newspaper and the BBC before parliament had seen it.
Ms Marwick told Holyrood: "I have made my position clear on many occasions that I expect any major policy announcements by the Scottish government should, in the first instance, always be made to the parliament.
"This is the second in a series of discussion papers and I note that this issue was raised before when the first paper was announced."
She added: "Can I ask that the Scottish government reflect carefully on whether the method used for these particular announcements has been appropriate, and follows the good practice guidance on making announcements in the parliament.
"Can I add that the Scottish government should always ensure that it treats this parliament with the respect it deserves."
Later a spokesman for First Minister Alex Salmond said: "The document was sent to four parliamentary committees last night, so there was prior notification.
"Secondly, I don't think this would qualify as a policy announcement when it is entitled a discussion paper."
Responding to the spokesman's comments, a Scottish Parliament spokesman said: "The process that was followed clearly does not comply with the good practice guidance on announcements and the Scottish ministerial code, which set out five ways the government should inform parliament.
"The issuing of an electronic copy of the document to the email mailboxes of four parliamentary committees at 22:43 is not one of the five."