Scottish independence: Glasgow students stage early referendum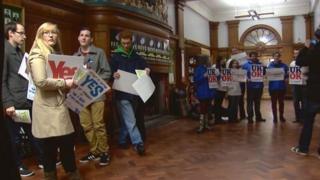 Glasgow university students will be taking part in a "dress rehearsal" ballot box vote on the Scottish independence referendum.
The potential electorate of 20,000 for next week's poll may be small compared to the four million who will be able to vote in the real referendum, but this event is getting close attention from the professional campaigns.
Deputy First Minister Nicola Sturgeon is due to visit the university in a bid to persuade students to vote yes.
She is expected to be joined by Scottish Green MSP Patrick Harvie.
The referendum is being organised by Michael Gray, the president of the university Dialectic Society.
Both the pro-union Better Together and pro-independence Yes Scotland organisations have been in touch.
Michael told me: "I've got emails and phone calls but at the end of the day that is their job.
"I suppose this is an opportunity for them as well as the students to make their mark.
"I think it would be a great coup for either campaign to have won a real vote - especially among young people. They want to give the impression that they represent the future of the country either within the United Kingdom or as an independent state."
Neither Yes Scotland nor Better Together will say how much money they are spending on this campaign but staff members from both organisations have been on campus and there is a professional sheen to the leaflets soggy students are handing out.
Oliver Milne is studying politics and history and is chair of the Labour club. When I met him outside the university library he was wearing a blue waterproof jacket sporting the Better Together logo.
He said: "We have got some help from Better Together as the Yes side have got some help from Yes Scotland.
"Both campaigns have clearly expressed an interest in the result of what is happening at Glasgow University.
"But it is not just leaflets, it is not just the materials that is really important to this campaign.
"It is the fact that you have students from the university Labour club, the Liberal Democrats coming out every day and dedicating their time and that is what is going to make the difference."
Down at the Queen Margaret Union, the Yes Scotland students have equally professional looking leaflets and posters.
Mairi Keir is studying Gaelic at the university and is president of the Glasgow University Scottish Nationalist Association.
I asked her if this campaign was only of interest to political geeks.
She said: "There are a few 'normals' too which is reassuring. A lot of people just really don't know a lot so we have been talking to them about who can vote and how they can vote."
The 21-year-old said it was great to have the support of the official Yes Scotland campaign but "at the end of the day it is us who are out in the hail and the snow and the hailstones talking to people".
'Good turnout'
So who will win?
Dan Paris is 23 and is studying history and is part of the Yes Scotland team. He said the campaign had been positive and received a good reception from his fellow students.
He said: "I am hoping for a good turnout. Obviously the more people that vote the better.
"There is a limit to how reflective this is but people should be interested in the debate as a whole.
"Part of the reason we are doing this is to raise the level of the debate. I think we are desperate to win in 2014 and anything that can get us there is a good thing."
But Dan refused to make any prediction of the final outcome.
Meanwhile, over at the library Amy McInulty, who is 18 and studies history at Strathclyde University, came across the city to help support the Better Together campaign.
Amy explained: "Glasgow University is a big university. It is an important part of the city and it is an important part of Scotland and so if we lose that referendum a lot of people might potentially lose faith in Better Together and we don't want that to happen of course."