Third of Scotland's councils set budgets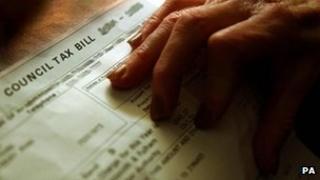 A third of Scotland's councils have been voting on their budget plans for the coming year.
The country's 32 local authorities are facing millions of pounds worth of cuts to services with the prospect of shedding staff jobs.
Aberdeen City, Aberdeenshire, Fife, Falkirk and Moray have agreed budgets and the continued council tax freeze.
North Lanarkshire Council agreed a package of savings worth £62m over three years.
Several controversial proposals were rejected, including stopping lunchtime school crossing patrols and changes to the school bus mileage limits.
Council leader Jim McCabe said: "We have been able to protect frontline services and, even in the face of the biggest storm facing the public finances in history, we have been able to invest where money is needed most."
Scotland's biggest councils, Glasgow and Edinburgh, okayed their spending plans last week.
For its budget, Falkirk Council voted to focus its spending plans on housing, local infrastructure and investing in the economy.
The council said it had managed to preserve frontline services despite financial pressures.
School estate
Moray Council voted to axe arts development funding and close some libraries - but the council leader warned that harder choices lay ahead as £30m in savings needed to be found in the years to come.
Councillor Allan Wright said that savings being implemented in the year ahead were "but a start" and that "more radical proposals" were being lined up by the administration.
He focused on the education sector, saying that the area had "too many schools for the number of pupils".
Councillor Wright added: "The review of the school estate is overdue and it will be started as soon as possible under the guidance of the area-based review which cross-party members have been working on.
"The same area-based review will be used to consider the future of all our leisure facilities."
Orkney Islands Council agreed an £80m budget for 2013-14, freezing council tax with £1.1m in efficiency savings.
Inverclyde set a three year budget, but warned savings would have to be made, resulting in cuts to frontline services and payment for some other services.
Council leader Stephen McCabe said: "One of the reasons we are proposing a three-year budget is so that the required level of savings can be achieved on a phased basis, providing officers with time to manage the impact on both service users and employees in as sensitive a way as possible, in partnership with our colleagues in the trade unions."
South Lanarkshire cut its budget, citing savings made by a move to national police and fire services, and froze its council tax.
Argyll and Bute Council set it budget while continuing the council tax freeze, as did Dundee and Comhairle nan Eilean Siar (Western Isles Council).