Part-time Scottish college places cut, say principals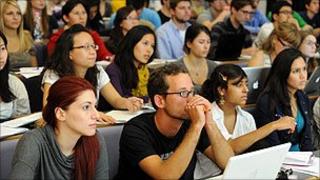 Scottish college bosses have warned that places for part-time students have been cut in the wake of staff reductions.
Principals from Dumfries and Galloway and Banff and Buchan said there was a focus on providing full-time places.
The National Union of Students said colleges faced a £34.6m funding cut next year.
The Scottish government said it was maintaining college numbers but insisted cash must be saved.
Dumfries and Galloway College principal Carol Turnbull told Holyrood's education committee her staff numbers were cut by 41 three years ago.
"Because of that, we've then been able to maintain our student numbers within the budgets we've been afforded up until this point," she said.
"Where we have had to reduce is in our part-time provision, so the focus and the funding has very much moved from part-time.
"Where we had 8,000 part-time enrolments three or four years ago we're maybe down to around 4,000 in total. We've had to shift our resource to focus on full-time places for young people."
Paul Sherrington, principal of Banff and Buchan College, said the number of full-time equivalent (FTE) staff at the institution had dropped from 237 to 220 over the past two years.
He also said the college was now focusing on full-time places for young people.
"In the past we would have had typically 8,000 enrolments, a significant number would be part-time, now that's fallen to nearer 6,000," Mr Sherrington added.
In a submission to the committee, Edinburgh College principal Mandy Exley warned the pace of cuts to the sector could create a "funding crisis" and staffing problems.
She said that while the college had not cut provision, it had increased class sizes.
Cardonald College principal Susan Walsh said class sizes at her college had also increased, adding: "Like everyone else we have lost staff, all of it through voluntary severance, we lost 50 FTE over the last two years out of 450."
The concerns were raised as the education committee scrutinised the government's Post-16 Education Bill, including provisions for college regionalisation, which could see mergers or institutions working together more closely.
A Scottish government spokesman said: "We are maintaining college numbers and have a record number of Scots in higher education, expressed as full-time equivalent.
"The Scottish government is committed to a successful college sector but this must include stripping out the duplication and waste which has diverted resources from the direct benefit of young people.
"College mergers will deliver efficiency savings running to an estimated £50m a year from 2014-15 onwards which will substantially offset the budget reductions we are making."