Scottish ministers build on infrastructure plan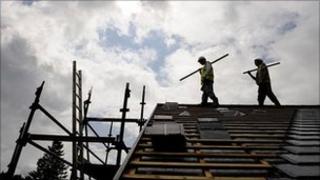 Further details of multi-billion pound plans to invest in Scotland's infrastructure are to be outlined by the Scottish government.
It will publish an updated version of the £12.8bn Infrastructure Investment Plan made public in late 2011.
This set out capital spending projects in housing, health, education and transport - including A9 and A96 dualling and next generation broadband.
Opposition parties have branded the plans a "wish list".
Deputy First Minister Nicola Sturgeon will provide an update the proposals, including pledges to improve Scotland's road networks and build new hospitals, schools and prisons.
Ms Sturgeon told BBC Radio Scotland's Good Morning Scotland programme: "The updated plan that we will publish today goes into a lot of detail about projects that are live or will become live - there will be more than 100 of those.
"Secondly we'll look at a range of programmes which are longer-term, which there is less certainty about because of the timescales involved, but it is nevertheless important to give detail of what our intentions and our ambitions are so that industry can be prepared."
The minister added: "In this financial year we are supporting capital investment of £3.1bn - that's estimated to be supporting around 40,000 jobs across the economy.
"We are under no illusion about how difficult it still is for key sectors of our economy. Construction is one of those, and that makes it all the more important that we are focused on ensuring the capital investment that the country needs."
Scottish Conservatives have repeatedly questioned the Scottish government's record on infrastructure investment.
Tory deputy leader Murdo Fraser said: "There is quite a lot of evidence around that says if you spend money on a capital project it does stimulate some growth in the economy, it creates jobs, it gets the construction sector going - but you actually have to make sure the project happens and this is not actually being delivered."
More than 50 infrastructure projects were outlined in 2011, across a range of sectors, designed to kick-start investment and growth.
The original programme included:
Transport - Dual the A9 between Perth and Inverness by 2025; complete dualling of the A96; dualling road network between all of Scotland's cities by 2030; complete construction of replacement crossing over the Firth of Forth by 2016, and invest in "substantial" rail improvements, reducing journey times between Edinburgh and Glasgow, from Aberdeen to the central belt, Aberdeen to Inverness and on the Highland Main line.
Digital - The next generation of broadband will be delivered "to all" by 2020.
Health - Through to 2030, the Scottish government "will continue to invest" in property, medical equipment, IT and vehicles; in addition it plans to deliver specific projects such as the Southern General Hospital Glasgow and the Sick Kids in Edinburgh.
Education - By 2018 the "vast majority of Scotland's children" will benefit from "good learning environments", and by 2016 students in Glasgow, Inverness and Kilmarnock will benefit from new colleges.
Housing - Through to 2030, the Scottish government will deliver a step change in the provision of energy efficient homes through new-build programmes and the "retrofitting" of existing homes, including a commitment to deliver 30,000 homes over the life of this parliament.