Scottish independence: Election watchdog views get 'weight'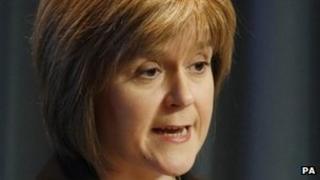 Scotland's deputy first minister has said "considerable weight" will be given to the election watchdog's views on the independence referendum.
Nicola Sturgeon's comments came before the Electoral Commission is due to publish its guidance on the running of the poll, expected in autumn 2014.
The SNP government has proposed a referendum question, which has been tested by the commission.
Legislation to hold the vote needs final approval from MSPs.
The Scottish government wants to ask voters the yes/no question: "Do you agree that Scotland should be an independent country?".
First Minister Alex Salmond previously has described the question as "short, straightforward and clear", but his political opponents have raised concerns the wording is biased.
Speaking during ministerial question time at the Scottish Parliament, Labour's Patricia Ferguson said there was a "growing clamour of voices" calling on the Scottish government to commit in advance to accepting the advice and recommendations of the Electoral Commission "in full".
Ms Sturgeon said: "I have made very clear the considerable weight that will be attached to Electoral Commission recommendations by the Scottish government, not just on the referendum but on any relevant issue.
"I've also made very clear, and will do so again, that there would have to be a very good reason to depart from Electoral Commission recommendations, and any government so doing would have to explain its position to this parliament."
Responding to Ms Ferguson's call, the deputy first minister added: "Given the respective roles of the Scottish government, the Electoral Commission and the Scottish Parliament, it would be an utter abdication of my responsibility as a minister to this parliament to say what I thought of Electoral Commission recommendations before I had even seen what those recommendations are."
The commission has been looking at several aspects of the referendum, including campaign spending limits, in addition to the ballot paper question.