Scotland's universities pledge to help 'deprived' students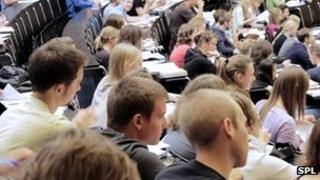 Scotland's universities plan to do more to cut drop-out rates of students from disadvantaged backgrounds.
The pledge is part of a deal with the Scottish government about delivering more to society and the economy.
The head of Universities Scotland, Alistair Sim, believed the early signs of students struggling needed to be spotted.
He added that it was a "huge waste" when underprivileged students dropped out from their courses.
The overall non-completion rate at Scottish campuses stands at 9.4% which is one per cent above the level in England but below other countries such as Italy.
Mr Sim, who is director of Universities Scotland, told BBC Radio's Good Morning Scotland programme: "A lot of progress has been made. What we are saying now is we are looking to converge completion rates among those coming from the most deprived backgrounds with those coming from the more privileged backgrounds. We are committed to investing further in that support.
"What you are dealing with is people with enormous educational potential but they come from backgrounds where that has not been encouraged where it should have been.
"I am struck by the statistic that if you look at the most deprived 20% of the population, only 5% are getting five Highers and that to my mind is a cultural problem and that is a huge waste of educational potential because there are so many bright people in that group.
He added that it was incumbent on universities is to give greater pastoral support and spot the early signs when students from poorer homes struggle.