New sectarian law hailed a success by Lord Advocate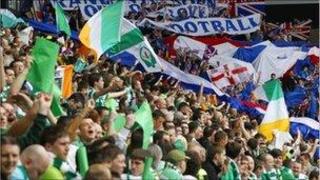 Scotland's new sectarian law is being used to good effect, according the country's lord advocate.
Frank Mulholland's comments came in wake of statistics on how the Offensive Behaviour at Football and Threatening Communications Act was being used.
Since the law was introduced in March, 89% of all cases have been prosecuted with 83% resulting in conviction.
The new law was designed to reduce religious hatred associated with football.
The two new offences it created included one covering behaviour in and around football matches and the other was related to messages sent by post or electronic means.
Anyone convicted under the new legislation could face a prison sentence of up to five years.
Mr Mulholland said: "Attending football matches or simply supporting your team, wherever that may be, should be an enjoyable experience for all and should not be spoiled by the small minority.
"Football authorities and the clubs are playing their part to tackle the problem with such initiatives as Show Racism and Bigotry the Red Card and we will continue working with them, police and other agencies, adopting a zero-tolerance approach to those who are involved in promoting sectarianism, religious offences and football related disorder and violence of any kind."
Minister for Community Safety and Legal Affairs Roseanna Cunningham hailed the new powers as a step towards "eradicating sectarianism and other unacceptable expressions of hate" from the national game".