Scottish independence: Greens may push for single question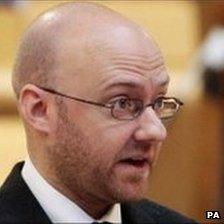 The Scottish Green Party may no longer support a proposal to have a second question in the independence referendum.
The party has been a supporter of a multi-option ballot, with voters being offered a choice such as "devo max".
Co-convener Patrick Harvie MSP has said that stance may be reviewed at the Greens' conference.
The Scottish government said the form of the vote would be determined after its consultation process was complete.
Mr Harvie said: "The Greens currently do support a multi-option referendum to give the people the maximum choice.
"But I suspect we'll debate that and possibly change it later in the year when we come to party conference.
"To be legitimate, a second question needs to be clear and it needs to represent a meaningful mandate."
Mr Harvie claimed this has not been established by those backing an additional option on the ballot paper.
He added: "Now a couple of organisations have tried to define what 'devo max' or 'devo plus' might look like.
"I don't think they've achieved the clarity that's needed. People don't know what they're voting for."
The results of the Scottish government's consultation are being independently analysed and it has said it will make the findings known after the summer.