Forced transfer of good teachers to struggling schools ruled out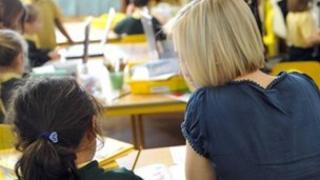 The Scottish government has ruled out compelling the country's best teachers to work in struggling schools.
However, Education Secretary Mike Russell has confirmed he would consider the possibility of staff spending time in different schools.
That was one proposal put forward in the recent McCormac review of teachers' pay and conditions.
Earlier this month inspectors reported that one in 10 schools fails its inspection.
Government body Education Scotland also revealed in its report that in the secondary schools in deprived neighbourhoods, the figure was almost one in three.
In the Scottish Parliament this week, Labour MSP Neil Findlay suggested putting the best teachers and head teachers into schools with the greatest difficulties.
Mr Russell said: "I am very open to that type of suggestion and over the next year one of my objectives will be to look at this issue in more depth to make sure we can find ways to move it forward."
A government statement later added that ministers were "not considering any option of compulsory movement of teachers".
It went on: "There may be benefits in teachers or head teachers choosing to move between schools, for ongoing professional development or to share good practice between schools and support improvement."
The Scottish government's National Partnership Group - which has staff and employer representatives - is currently considering this and other issues from the McCormac review.
It is due to report to the education secretary later this year.
The EIS teaching union said it sees a case for staff offering support and mentoring to other staff as part of in-service professional development but added it does not back replacing the head teacher in struggling schools.
A spokesperson said: "The EIS rejects completely the notion of 'super head-teachers' being parachuted into certain areas. The most effective leadership in schools comes from team-work and good collegiate practice.
"We have seen from the experience in England that the notion of heroic individuals simply doesn't work."
It added: "The key problems for schools serving areas of multiple deprivation arise from the challenge of poverty not the quality of the teaching staff."
Any future secondments or transfers in Scottish schools are likely to be voluntary.