Scottish government reports progress in fish talks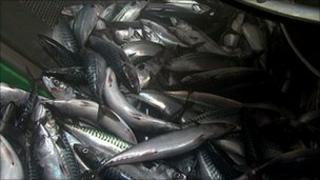 The Scottish government said it is pleased with the progress been made on the issue of fish discards.
Negotiations in Luxembourg on a new Common Fisheries Policy concluded in the early hours of Wednesday.
The proposals include ending the policy of discarding dead fish caught by accident under the quota system.
Scottish fisheries minister Richard Lochhead said the plan "lays the groundwork for a radical reshaping" of Europe's police on fishing.
A date to end the policy has not yet been finalised, but any change must be agreed by the European Parliament and the European Commission.
During their long discussions, ministers also agreed that regions of the EU should be given more control over fisheries policy.
Mr Lochhead said: "For the past 30 years, a one size fits all, micro-managing fishing policy run by out-of-touch bureaucrats has inflicted enormous damage on Scotland's fishermen, fishing communities and fisheries.
"The public will therefore welcome ministers' long overdue rejection of the status quo which Scotland has argued for consistently and been instrumental in securing."
'Some progress'
He added: "It is important to recognise this is not the end of the road. And as this process unfolds there will be ample time for the time frame to be revised in favour of our more ambitious one."
Bertie Armstrong, chief executive of the Scottish Fishermen's Federation said: "We believe that some progress has been made on regionalisation, which is of vital importance for there to be effective fisheries management in the future.
"However, the biggest area of discussion was discards, where it looks like a graduated approach to banning the practice has been put forward, which would see a plan in place for herring and other pelagic species in early 2014, and all other species between 2015 and 2018.
"It is not possible to reduce or eliminate discards simply by putting a number on a page in any new regulations.
"Instead such aspirations can only be achieved through the use of practical management measures, which is why proper and sensible regional management is so important."